The name beets always made me wince as a kid. I never tried them until I was twenty-one and at a dinner party where I couldn't refuse them. The beets were simple slices of roasted beets dressed with sour cream and beet juice over a bed of crisp greens. Much to my surprise, I liked how sweet they were. So I learned to eat beets and add them to my short "vegetables that I eat" list. When you're twenty-one, you have a short list.
Beets are delicious, sweet and so good for you. I wish they had a more appealing name. This salad has a perfect balance of flavors – the sweetness of the beets, the tang of the goat cheese and a light vinaigrette that doesn't overpower either flavor. And just look at those colors! Both delicious and visually pretty.
This is a salad you can prep the night before and arrange the next day before serving. I sorted by color, wrapped in foil and roast six medium sized beets (cleaned and trimmed) in a 425° pre-heated oven for about 1 1/2 hours the day before. While the beets were roasting, I made the vinaigrette by adding all the ingredients (shallots, lemon juice, red wine vinegar, sugar, salt, pepper and olive oil) in a mason jar and shaking it vigorously to blend.
Once the beets are roasted, remove them from the oven and allowed them to cool before handling. I don't mix the colors since I don't want the red beets staining the golden beets. I sorted them by color and work each group in two batches. Remove the skins and slice the beets 1/4 inch thick. Place in a small glass bowl, coat with 1/3 of the vinaigrette and cover. Repeat with the other batch and store both containers in the refrigerator.
Note: Wear gloves and an apron to avoid staining your hands and clothing.
Organic heirloom beets from the farmer's market

ingredients for the vinaigrette
Red beets roasted together

Golden beets roasted together

Foil packets ready for the oven
Assembling the salad: Place the slices in alternating colors, add crumbled goat cheese pieces, drizzle with the reserved 1/3 vinaigrette, microgreens and salt and pepper. Note: I made this a heartier salad by placing a bed of mixed greens under the beets. The reserve vinaigrette is sufficient to dress the greens.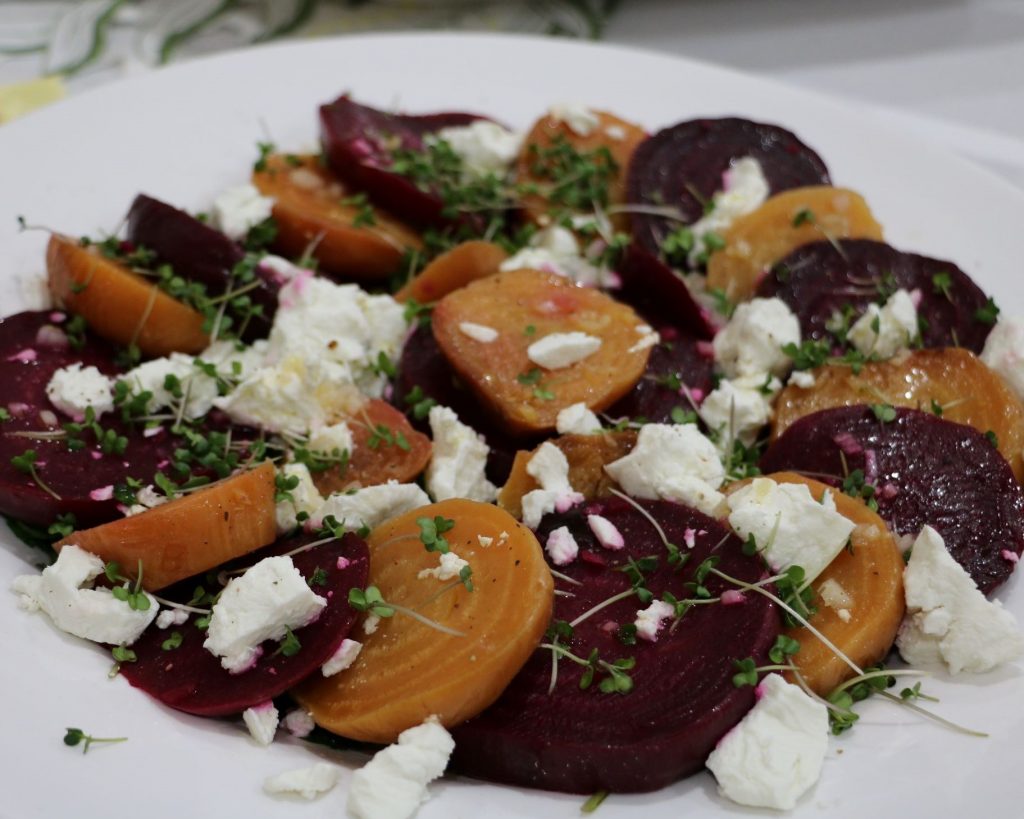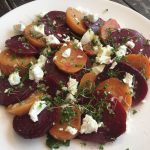 Roasted Heirloom Beet & Goat Cheese Salad
The sweetness of these roasted beets contrasted by the tangy goat cheese makes this the perfect Spring salad.
Ingredients
6

medium

beets (golden and red), cleaned and trimmed

4

Tablespoons

olive oil

2

Tablespoons

shallots, minced

2

Tablespoons

fresh lemon juice

2

Tablespoons

red wine vinegar

1/4

teaspoon

sugar

1/2

teaspoon

Kosher salt

1/4

teaspoon

fresh ground black pepper

4

ounces

goat cheese

Garnish: microgreens
Instructions
Preheat oven to 425°. Sort beets by color and wrap in foil. Place the two packets of beets in the center rack and roast until tender – about 1 1/2 -2 hours. Remove from oven and allow to cool before handling.

Note: Beets can stain your hands and clothing. I like to use gloves and an apron when handling beets.

Making the Vinaigrette: Combine the olive oil, shallots, lemon juice, red wine vinegar, sugar, salt and pepper in a mason jar and shake vigorously to blend. Set aside.

Once cooled, remove the skins from the beets and cut into 1/4 inch thick slices. Place in two separate bowls by color. Add 1/3 of the vinaigrette to each bowl and toss to coat the beets.

Note: If you are not serving the salad immediately, cover and refrigerate overnight. Assemble the next day.

Arrange the beets on a serving platter, drizzle with extra vinaigrette, crumble the goat cheese in pieces and scatter on top of the beets. Garnish with microgreens and a little finishing salt and pepper, if desired.