This is the best mashed potato recipe and technique. The results are creamy, rich and fluffy mashed potatoes. Just perfect. You can easily adapt it and to make garlic mashed potatoes, cream cheese, loaded (like a baked potato), etc. No matter how many variations I make, I always start with this basic recipe and apply these techniques. It's foolproof perfect mashed potatoes.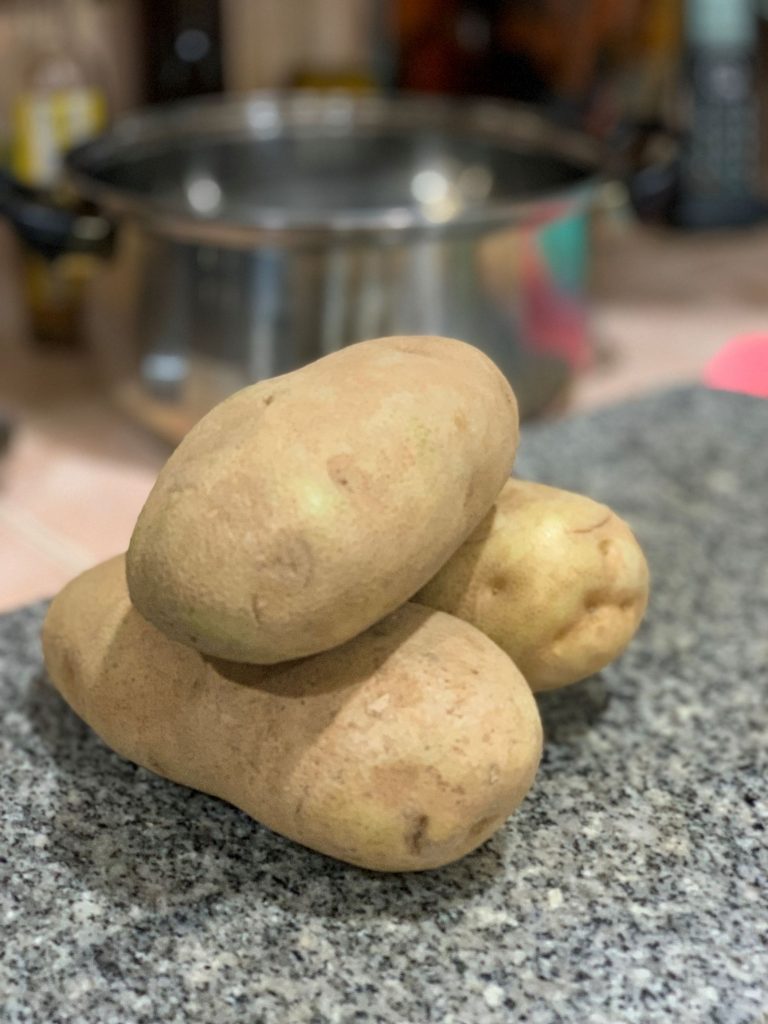 Start by peeling your potatoes, cutting them in even chunks to ensure that they cook evenly. Place in a stock pot and cover with cold water. Bring to a boil and cook for 20-25 minutes – until the potatoes are fork tender. Drain the water and return the potatoes to the pot. Reduce the temperature to medium heat and with a potato masher, go a few times around the pot mashing up the potatoes so they can release any excess moisture. I like to go three rounds like Rocky. LOL (nod to my love of Rocky movies). This is a great technique I learned years ago from Chef John on allrecipes.com.
Add the room temperature butter, warm milk, salt and pepper and mash until they are evenly mashed and fluffy. I add about 1 teaspoon of kosher salt and 1/2 teaspoon of fresh ground black pepper. Always taste and reseason before serving. You can garnish with extra melted butter, parsley, chives and anything else your family loves. Tip: Adding room temperature butter and hot milk is important so you don't end up serving cold mashed potatoes.
Sometimes for large gatherings and holiday parties I make a 5 lbs. bag of Russet or Yukon gold potatoes and just before garnishing the tray like a loaded baked potato, I cut thin patties of cold butter and I push them straight down into the mashed potatoes. Oh yum!! It creates these pockets of buttery goodness that's just amazing! If you like skin on, peel half of the potatoes. If you want to get fancy, when you warm up the milk add a semi crushed garlic clove and sprig of thyme to infuse the milk (discard garlic and thyme before adding milk to mashed potatoes) like you would when making potato gratin. No matter what you add to the potatoes, this is the only basic recipe you'll need.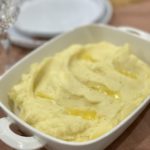 Creamy Mashed Potatoes
This is my go to basic mashed potato recipe. It's perfect and fluffy each and every time.
Servings
4
healthy servings
Ingredients
4

large

Russet potatoes, peeled and cubed in even chunks

water, for boiling potatoes

⅓

cup

unsalted butter, room temperature and cut in pieces

¾

cup

whole milk, hot

Kosher salt

fresh ground black pepper
Instructions
Peel and cut the potatoes into even size chucks. Rinse the chunks and place them in stock pot. Cover with water and bring to a boil. Cook for 20-25 minutes until fork tender.

Drain the potatoes and return them to the pot. Return to pot to the stove top and reduce the temperature to medium heat. Using a potato masher, go a few times around the pot and break up the potatoes. This will allow them to release excess moisture. Turn heat off.

Add room temperature butter, hot milk, salt and pepper and continue to mash until you have fluffy mashed potatoes. Taste and reseason as necessary.