This is a dish made for a king. Literally. Veal Oscar was created in honor of Sweden's King Oscar II using his favorite ingredients. Since then, many variations have been made substituting the veal, crab meat and sauce. Regardless of the substitutes, now paupers can eat like kings too! This fancy and decadent meal is perfect for any special occasion. I decided to make it for this Father's Day and for my brother-in-law, Oscar.
I start by making Maitre d'Hotel Butter – a fancy term for a compound butter that's so versatile. I used tarragon as my herb to build upon the layer of tarragon flavor also in my tarragon Hollandaise Sauce. I love this butter, it's so good!! Next, onto the steaks!
For me and mine, there's nothing like Filet Mignon, but make what your family likes. Cuts of beef that also work well are New York Strip, Ribeye and T-bone steaks – just make sure you trim off the fat and the steaks come to room temperature (about 30 minutes) so they cook evenly. To be honest, these flavors are so amazing, they even work on a ground beef patty!
Pre-heat the oven to 450° F and place the rack in the center of the oven. Heat the cast-iron skillet over medium to high heat and let it come to temperature.
Note: You will need a cast iron skillet. If you don't have one, invest in one because it will make a huge difference in getting that sear on the steaks. Tip: Wet your fingers and flick a little water onto the skillet. The water will immediately sizzle and evaporate when the skillet has come to temperature.
While you're waiting for the skillet to get hot, coat the steaks with olive oil and season with salt and pepper. Place the steaks on the skillet. On contact the steaks should sizzle. Don't move the meat. Allow it to cook about 4-5 minutes on each side or until they are nicely browned. When it's ready, the meat will release. Once browned on all sides, transfer the skillet to the oven and roast the steaks until they are done to your liking. For my thick steaks, I browned the tops, bottoms and sides on the skillet, then roasted the steaks for 7 minutes, flipped the steaks and roasted for another 7 minutes. Remove the skillet from the oven and tent the steaks with foil until the other components are done, about 5 minutes. Allowing the meat to rest redistributes the juices throughout resulting in a tender and juicy steak. If you cut into it right away, all the juices will run out and you'll be left with a protein that is not enjoyable to eat.
Note: Depending on the thickness of your steaks and if they are bone-in or not, the times may vary. For best results use a meat thermometer. 130° F for Medium-Rare, 150° F for Medium.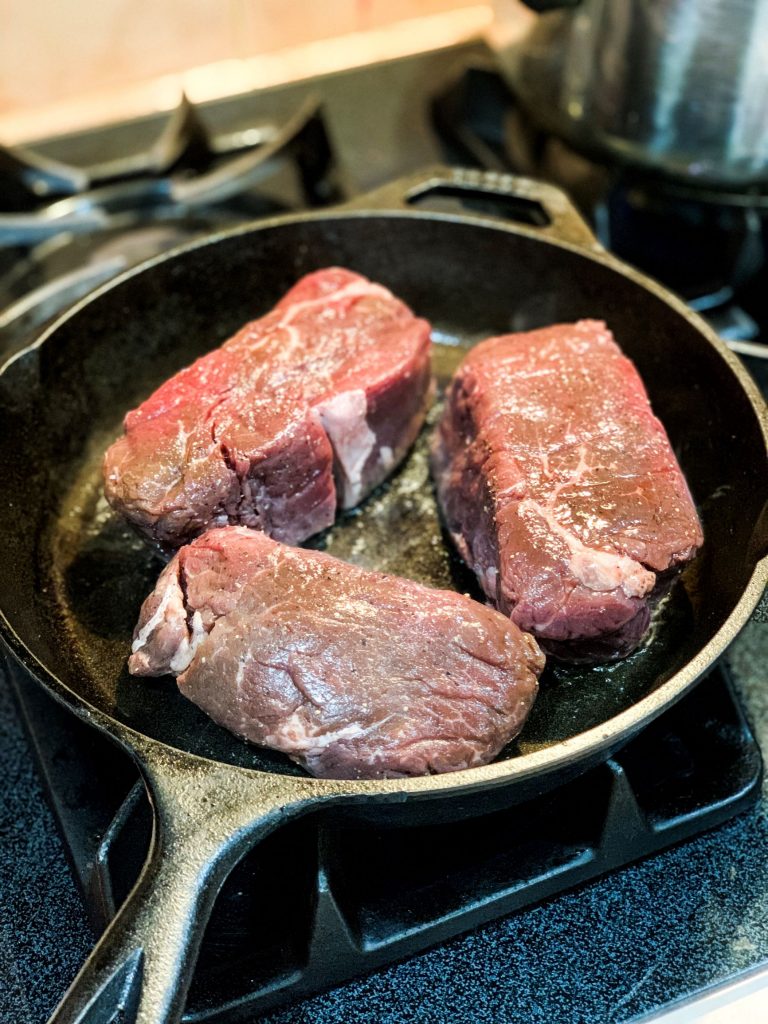 While the steaks are sizzling and roasting, you can make the Tarragon Hollandaise Sauce in a blender and pan sauté the asparagus in a little olive oil with a little salt and pepper. Once the steaks are resting, prepare the crab meat. In a small pan over medium heat, add a few tablespoons of Maitre d'Hotel butter and cook the crab meat just until warmed through in the butter. Try not to stir or break up the lumps. That's it.
Assembly:
Assemble to your liking. I prefer to plate the steak first, then pile on the crab meat, layer a few pieces of asparagus and cover the whole dish with Hollandaise sauce. Others prefer to place the steak on a bed of asparagus. There's no wrong way.
I served Steak Oscar with a side of my Creamy Mashed Potatoes. My family couldn't stop raving over the steaks. It was a special meal, on such a special day – it was perfect. I hope your Steak Oscar, or variation of it, is perfect and delicious! Enjoy!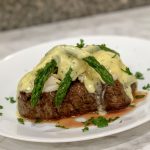 Steak Oscar with Tarragon Hollandaise Sauce
A decadent surf and turf meal fit for a king! This steak is cooked to perfection and layered with flavors that just go well together. Your guests won't stop raving over this steak!
Ingredients
4

Filet Mignon steaks (see recipe notes)

substitute with New York Strip, Rib eye, T-bone

2

Tablespoons

extra virgin olive oil

Kosher salt

prefer Diamond brand

fresh ground black pepper

8

ounces

jumbo lump crab meat, no shells/cartilage

1

bunch

asparagus, trimmed

Maitre d'Hotel Sauce

Tarragon Hollandaise Sauce
Instructions
Heat a large cast-iron skillet over medium-high heat. Pat dry the steaks with a paper towel. Rub with olive oil and season with kosher salt and black pepper. Place the steaks in the hot skillet and sear for 4 minutes on both sides, until nicely browned.

Transfer the skillet to the oven and roast to desired doneness – anywhere from 7-10 minutes for medium well. Use a meat thermometer to determine doneness. Thermometer should register 130°F for medium-rare and 140°F for medium.

While steaks are cooking, cook the asparagus on a skillet with a little olive oil, salt and pepper (about 8 minutes) and make the Tarragon Hollandaise Sauce in a blender.

Remove the skillet from the oven, tent with foil and allow the steaks to rest for 5 minutes so the juices redistribute.

In a small skillet over medium heat, add a few tablespoons of Maitre d'Hotel butter. Add the lump crab meat and warm through without breaking up the lumps.

Assembly: Plate the steak, top with crab meat and several spears of asparagus. Drizzle Tarragon Hollandaise Sauce.

Serve with Creamy Mashed Potatoes for a magnificent meal.
Recipe Notes
In order for the steaks to cook evenly, you should allow them to sit at room temperature for about 30 minutes so they lose the chill.   Pat them dry do the seasonings stick to the steak and you can develop that good sear crust and browning on the steaks.