Haricots Verts Amandine is a classic French side dish that's absolutely delicious. What's not to love about thin green beans, cooked in garlic, butter, lemon and topped with toasted almond slices? This dish comes together so quickly it's perfect to make any day of the week and delicious enough for entertaining. This side is a wonderful accompaniment to just about any meal.
Haricots Verts can be consumed raw, steamed, sautéed, baked, boiled, fried and even pickled! They can be added to soups and various casserole dishes, but I dare say a Green Bean Casserole is an American Thanksgiving staple.
HISTORY
According to Produce Blue Book, these delicious pods are indigenous to Central and South America. The Spanish and Portuguese introduced this legume to Europe and Africa. By the nineteenth century the thin pods became common throughout France – hence their name haricots verts. Amandine or Almondine? It all depends where you live – if in France, Amandine; and, if in America, Almondine. Haricots Verts are slightly longer and thinner than regular green beans and are thought to be more tender and flavorful because they are harvested earlier. No matter how you say it, this recipe is the perfect make ahead or à la minute (French for prepared very quickly and served immediately) side dish.
HERE'S HOW I MADE MINE
Start by toasting sliced Almonds in a dry pan over low-medium heat. Toss frequently as not to burn. When lightly brown and fragrant, transfer to a plate and allow to cool. Trim the woody ends or buy trimmed beans, like shown below.
Because I'm making these ahead, I'm blanching – a process of partially cooking then shocking in ice water to stop the cooking process. Greens tend to lose their vibrant color when boiling too long so by shocking, you retain their crisp texture and vibrant green color. They will finish cooking in the skillet.
BLANCHING
Fill a pot with water, add a Tablespoon of kosher salt and bring to a boil. Prepare a bowl with ice cold water and ice cubes and set aside. Cook the haricots verts in the boiling water for 2 – 3 minutes. Using a kitchen spider, transfer them to the ice water bath to shock the beans and stop the cooking process. The thin green beans should be bright green, slightly cooked and hold their firm shape.
MAKING ON THE SPOT – Transfer the haricots verts directly from the pot of boiling water to the skillet and continue with the recipe. Want to avoid blanching altogether? Add the haricots verts directly to the sauté pan and sauté over medium heat. They will take a little longer to cook. You can also add a splash of water, cover and steam them to reduce the cooking time.
MAKE AHEAD – After shocking in cold water, remove and pat dry with paper towels. Wrap them in a dry paper towel and refrigerate in an airtight container until ready to use, up to two days. Finish according to the recipe when ready to serve.
I like to toss these in a compound butter instead of adding each ingredient to the skillet separately. Compound butters are wonderful to have on hand and they quickly flavor anything from meats and seafoods to breads, pastas and vegetables. In a small bowl, mix together about 2 Tablespoons of softened unsalted butter, grate a few small garlic cloves, zest 1/2 lemon and add a little minced parsley.
Note: To make a larger quantity, here's a link to my Maître d'Hôtel Butter. Change up the ingredients to make all sorts of compound savory and sweet butters.
I like to use a wide skillet so I can spread out the haricots verts. This promotes even cooking quickly. Add the butter to the skillet and place the thin green beans on top. Sauté over medium heat for a few minutes until tender and bright green. You can add the toasted almonds to the skillet and toss to combine the almonds and beans or simply garnish the beans with toasted almonds and serve. Finish with a light dusting of kosher salt and black pepper.
Note: Sometimes I've added minced shallots and they are lovely. I didn't have any this time around, but the dish doesn't need them.
These thin green beans were so tender and delicious. The compound butter doesn't overpower their fresh, natural flavor and they are delicious when served warm, room temperature or the following day in a tossed salad. They are a great back pocket, go-to recipe and I hope you enjoy them.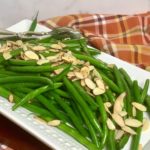 Easy Haricots Verts Almondine
An easy and delicious French thin green bean recipe that is simple perfection. These tender green beans are sweet, buttery and crunchy.
Ingredients
BLANCHING
1

pot

of boiling water

1

Tablespoon

kosher salt

prefer Diamond brand

1

bowl

of ice cold water with ice cubes
HARICOTS VERTS
1

bag

haricots verts, trimmed

Trader Joe's has a great selection

½

cup

sliced almonds

2

Tablespoons

unsalted butter, room temperature

prefer Plugra or Kerrygold brand

2 – 3

small-medium

garlic cloves, grated

depending on size and garlic flavor desired

pinch of

kosher salt

prefer Diamond brand

fresh cracked black pepper

zest of

½ a

lemon

about 2

teaspoons of

minced parsley
Instructions
BLANCHING
Fill a pot with water and bring to a boil. Add a Tablespoon of salt and stir to combine.

Set aside a bowl filled with cold water and ice cubes.

Add the haricots verts to the boiling water and cook for 2-3 minutes. Use a kitchen spider to transfer them to the ice water bath and stop the cooking process.
FINISHING THE HARICOTS VERTS ALMONDINE
In a dry skillet over medium heat, toast ½ cup of sliced almonds. Toss frequently to prevent burning. Once golden and fragrant, remove from pan and allow to cool. Set aside.

Make the compound butter. In a small bowl, combine the unsalted butter, grated garlic, pinch of salt, black pepper, lemon zest and minced parsley.

Add the compound butter to a wide skillet and top with the haricots verts. Sauté over medium heat for a few minutes until cooked through, somewhat firm and bright green.

Either add the toasted almonds to the skillet and toss together to combine, or transfer the haricots verts to a serving platter and add a little finishing salt and black pepper. Serve and enjoy.
Recipe Notes
Note:  Blanching is a great way to partially cook an ingredient, especially when prepping and making ahead.    You can also blanch and refrigerate the thin beans.  Simply pat dry and wrap in a dry paper towel in an airtight container.  
You can also make this on the spot and skip blanching.  They will require additional cooking time in the skillet.