This hash brown casserole is my copycat version of Cracker Barrel's famous cheesy and creamy hash brown potato casserole. If you don't have a Cracker Barrel near you, I'm sorry. If you do or see one in your travels, stop in and order these hash browns! They are so good! They are cheesy and creamy with a melted cheese topping found in great mac-and-cheese! The minute you take a bite, it warms your heart and makes you smile. Yes, that happens when you eat great comfort food.
Since I wrote this recipe, I have found other vintage recipes for this potato casserole also referred to as "funeral potatoes" because it was a great covered dish that freezes well that friends and neighbors would take to someone's house when a loved one passed away. Don't you just love vintage recipes?
For over 25 years, this casserole has been a staple at Christmas morning breakfast. Honestly, it's so good, it can be enjoyed any time of the year regardless of the occasion. No matter how I change our Christmas morning breakfast menu, I can't get away with omitting this casserole on Christmas morning. It is rich and creamy with the perfect ratio of potato to cheesy goodness. It's versatile and can be prepared ahead, making Christmas a little easier for the chef. I make mine the night before and bake it straight from the refrigerator to the oven.
HERE'S HOW I MAKE IT
In a large mixing bowl, thaw and combine a 2 lb. bag of diced hash brown potatoes, a stick of melted unsalted butter, a can of cream of chicken soup, a cup of sour cream, an 8-ounce bag of shredded cheddar cheese (or cheese mix of your choice), half a cup of raw minced yellow onion, 1/2 teaspoon of kosher salt and fresh ground black pepper. Fold until all ingredients are well distributed. Pour the mixture into a buttered 9X13 casserole dish and top with extra shredded cheese. That's it! As Ina Garten says, "How easy is that?"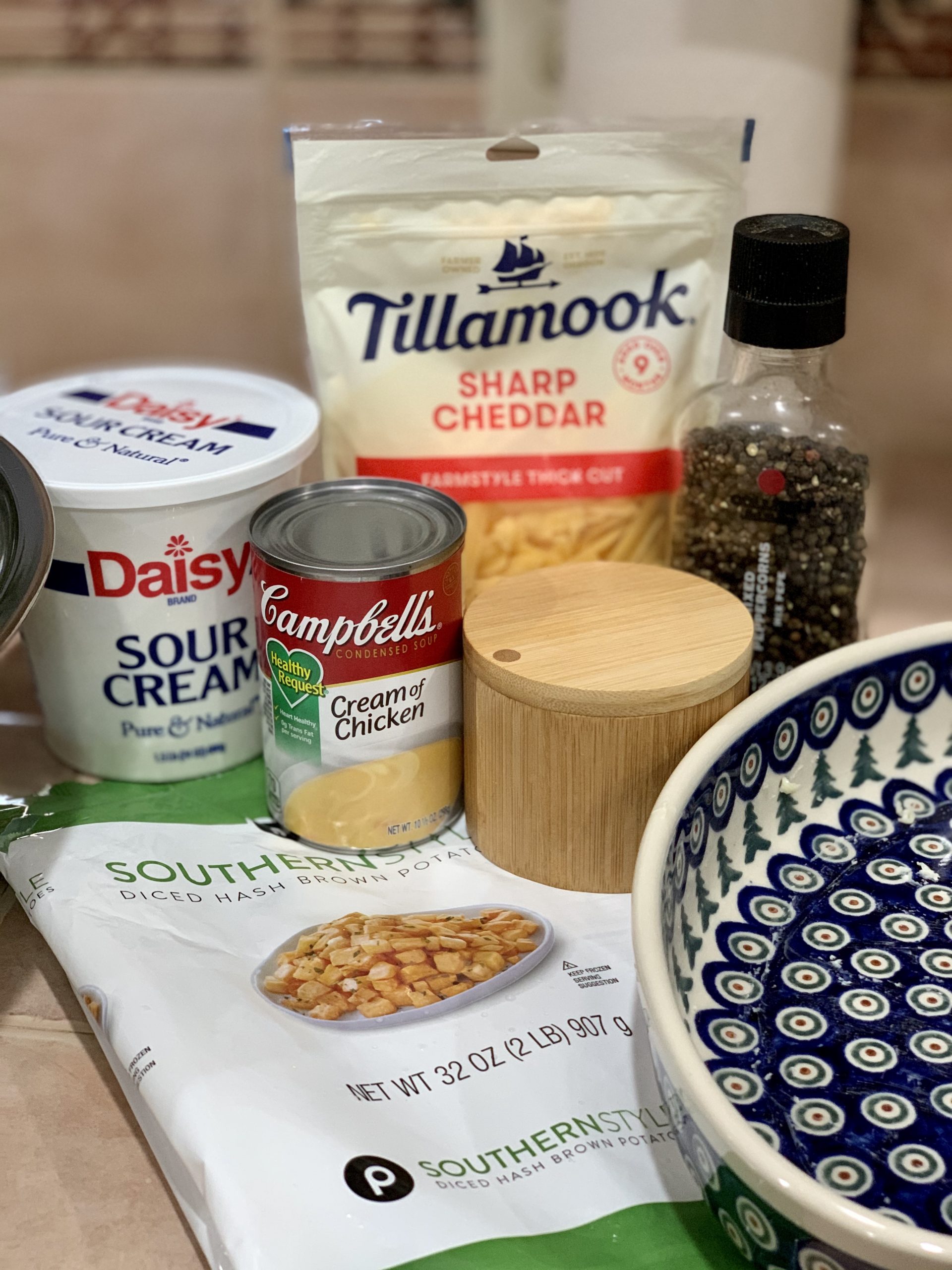 I buy Southern Style diced hash browns at my local grocery store. You can use shredded hash brown, but I like the diced potatoes best. In a pinch you could also use Potatoes O'Brien! Because the Cream of Chicken Soup is concentrated and has a high salt content, I use unsalted butter and 1/2 a teaspoon of salt. If you use salted butter, just omit the salt. I also use full fat ingredients – after all this is a Christmas breakfast treat so bring on the fat! I can't say the flavor or texture will be the same if you use reduced fat or fat-free ingredients.
While cheddar is the go to cheese in this recipe, there are many packages of shredded blends that work equally well. My favorite brand is Tillamook because of the quality and meltability factor of the cheese. Sargento also makes nice shredded cheeses. I don't recommend European cheeses in this recipe.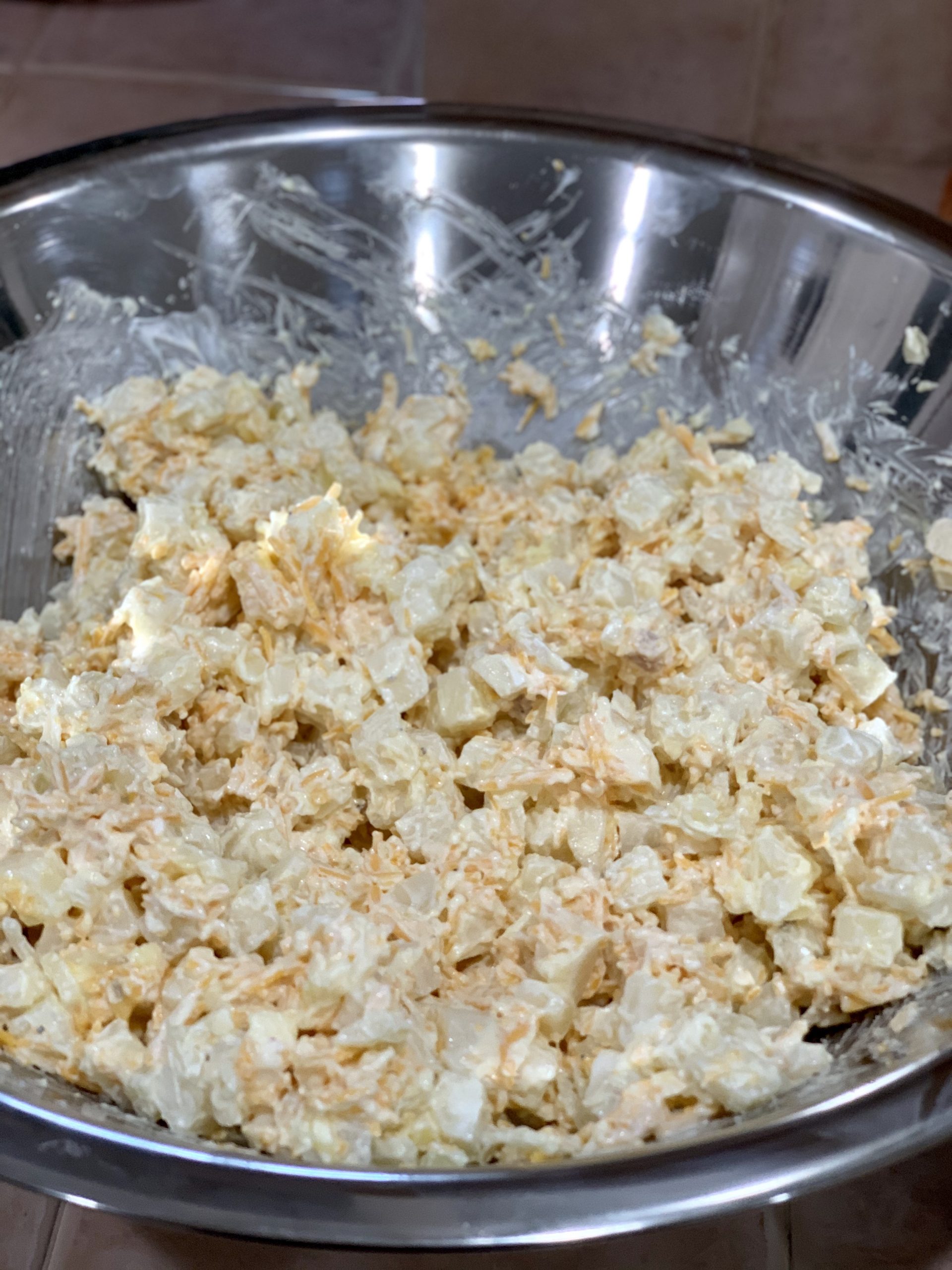 If preparing the day before, like I do, cover the dish with plastic wrap and refrigerate overnight. Not only is this a time saver, but it also allows the flavors to marry. When ready to bake, remove plastic wrap and bake in a preheated 350°F oven for an hour or until the top is golden and bubbly. If your family is like mine, it will be the first casserole they dig into and the first one to empty.
Note: If you prefer a crunchy topping, reserve two tablespoons of melted butter from the listed butter amount and combine in a small bowl with 2 cups of Panko bread crumbs or Corn Flakes cereal. Evenly spread bread topping just before baking to prevent topping from getting soggy.
This can also be made in advance and frozen up to a month. Thaw the day before baking in the refrigerator, then follow the baking instructions above. Just make sure your casserole dish is freezer safe. Should you have any leftovers, you can flash freeze individual portions on a baking sheet, then transferred to a freezer safe container. When ready to enjoy, take out the portions you need and thaw in the refrigerator. They can be warmed through in the oven or in the microwave.
Want a versatile weeknight casserole? Add a shredded rotisserie chicken and broccoli florets for a delicious and easy dinner! You can really add your favorite ingredients and transform this humble cheesy potato casserole into another easy meal. I hope you enjoy this casserole as much as we do!
Hash Brown Casserole (Cracker Barrel Copycat)
My copycat version of Cracker Barrel's cheesy and creamy hash brown casserole. This is a wonderful overnight savory casserole that's perfect for Christmas breakfast or any holiday brunch.
Make Ahead – Overnight
8
hours
Ingredients
1

2-lb bag

frozen diced hash brown potatoes, thawed

1

stick

unsalted butter, melted

prefer Plugra or Kerrygold

1

can

cream of chicken soup

prefer Campbell's brand

1

cup

sour cream

prefer Daisy brand

1

8-ounce bag

cheddar cheese, shredded, plus more for topping

prefer Tillamook cheese

½

cup

onion, finely diced

½

teaspoon

kosher salt

½

teaspoon

fresh black pepper
Instructions
Butter a 9X13 oven safe casserole dish and set aside.

Add all the ingredients to a large bowl. Use a wooden spoon to fold the ingredients until well combined. Pour into the prepared casserole dish and spread evenly.

Top with extra cheese and a little black pepper.

Crunchy Topping:  If you prefer a crunchy topping instead, reserve 2 Tablespoons of melted butter listed above and combine in a small bowl with 2 cups of Panko bread crumbs or Corn Flakes cereal. Spread crunchy topping evenly over the top just before baking to prevent from getting soggy. 

If making the day before: Cover the casserole with plastic wrap and refrigerate overnight. In the morning, preheat the oven to 350°F, remove plastic wrapping and bake for about an hour until golden and bubbly. Allow to rest at least 10 minutes before serving.

If serving the same day: Bake at 350°F until top is golden and bubbly. Rest at least 10 minutes before serving.
Recipe Notes
Freezing:  Can be prepared and frozen up to a month before.  Thaw in refrigerator the day before baking.