Ah! Christmas morning. This has to be my favorite breakfast of the year. It's one I look forward to all year long and I cherish more than any gift. There's something magical about waking up on Christmas Day to a delicious scratch made breakfast and fresh brewed coffee. The goodness wafting through the house seems to wake everyone up just in time to eat. We play Christmas music in the background, light the trees, sit around the table in our pajamas and eat as a family before opening any gifts. The hour we spend eating, laughing, talking and making memories is priceless. When we are done eating we sit around the main Christmas tree and my daughter sorts the gifts placing them next to each person. Then we go around the room opening our gifts and reading cards. It doesn't matter what is wrapped under the tree, what matters is being together.
KEY TO A STRESS-FREE CHRISTMAS MORNING BREAKFAST
Make ahead casseroles is the key to Christmas breakfast. On Christmas Eve, I prepare three casseroles and refrigerate them overnight. I also set the table because it's one less thing to do in the morning. Christmas morning, I quietly go into the kitchen, place all three in the ovens and bake them at 350°F for an hour. The only thing left for me to do is pan fry bacon or sausage (if the family asks ahead of time), bake biscuits during the last twenty minutes and brew coffee. What an easy and stress free breakfast!
TRADITIONAL CHRISTMAS MENU
Overnight Egg Bake – a crustless quiche type egg dish filled with your favorite ingredients
Hash Brown Casserole (Cracker Barrel Copycat) – cheesy, creamy potatoes (sometimes called Funeral Potatoes)
Hawaiian Blueberry French Toast Bake – french toast and blueberries with a crumble crunchy topping
Bacon & Sausage Links – pan fried bacon and sausage links (if requested)
Biscuits – when not homemade, Pilsbury Grand Biscuits are an easy shortcut
Assorted jams, jellies and honey butter
Beverages – lots of coffee, orange juice, peach Bellini and on occasion, a bloody Mary
Christmas breakfast is extra special when served in my Christmas Polish pottery stoneware collection. Aren't they beautiful? The craftsmanship on this collection is amazing and each item is hand painted. I love their durability and they go from oven to table and are dishwasher safe. I've been collecting these plates for more than 25 years and I have a full service for eight with various casserole dishes and serving plates.
Breakfast is served family style so there's no room for flowers.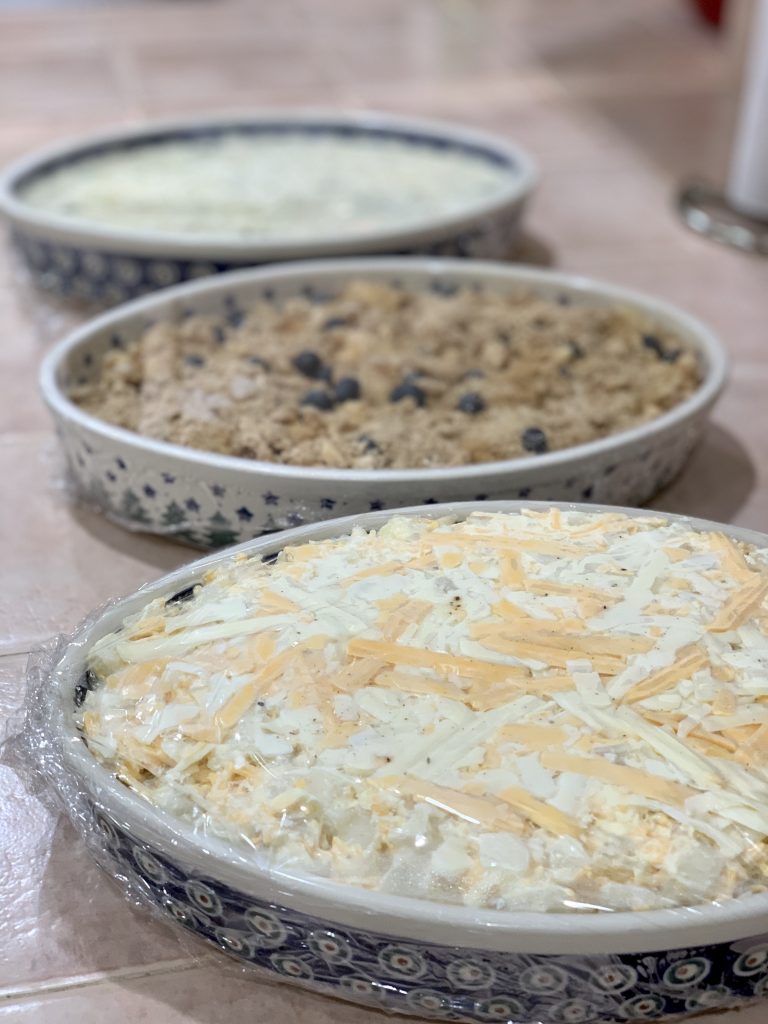 Above are the three casseroles right out of the refrigerator. I simply remove the plastic and bake in a preheated 350°F for 55-60 minutes. Having a double oven helps to get everything on the table at the same time. If you don't have a double oven, cook the potato casserole first and tent with foil while the others cook. The potatoes will hold the heat the longest. Then tent the egg bake and french toast bake while the biscuits bake. Everything should still be warm by the time the biscuits come out.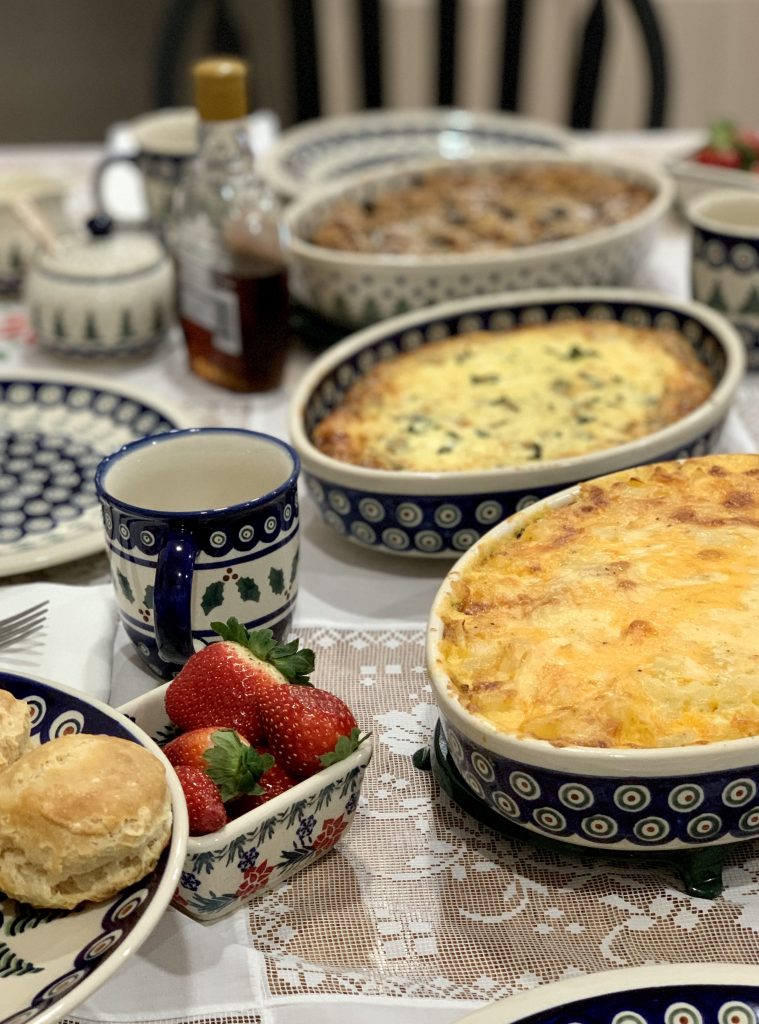 Don't forget to serve with coffee, juice or any other assorted drinks your family loves. I hope my Christmas morning breakfast inspires you to make your own amazing breakfast to share with those you love.