These are just plain cute, easy to make and a crowd favorite. I mean, who doesn't love hot dogs wrapped in crescent rolls? These have a light egg wash and a sprinkling of Trader Joe's Everything But The Bagel seasoning, but for this post, we will just call it dirt.
Unroll 1 8-ounce package of Pilsbury Crescent Rolls and pinch the seams together. Using a pizza cutter, cut thin strips, about 6 per hotdog. Remove the hotdogs from the packaging and pat them dry with a paper towel.
Insert a small wooden skewer halfway into the hotdog and wrap the hotdog with about 6 strips in overlapping directions to resemble bandages. Brush with an egg wash and sprinkle the with Trader Joe's Everything But The Bagel seasoning. Bake for 12-15 minutes, until golden. Serve with hotdog condiments such as ketchup, mustard, relish.
My mummies don't have eyes (because mummies don't have souls), but you can dot yours with mustard for some eyes.
This is an easy and simple recipe that's perfect for small kids to make. Keep in mind no two mummies need to be the same. You can impale them like I did in a skull candy dish I found on Amazon that's been fitted with floral foam and moss. You can also serve them skewerless on a plate for an easy grab and go option or make mini mummies by using cocktail wieners.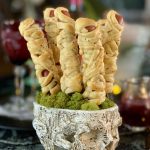 Impaled Mummies
Hot dogs wrapped in crescent roll dough make the most tasty and friendly savory treats! This is perfect recipe for small children to make and decorate their own mummy.
Ingredients
1

8 oz can

Pilsbury Crescent Rolls

1

10.3 oz packet

Hebrew National Beef Frank hot dogs

egg wash

(1 egg plus 1 teaspoon of water)

Trader Joe's Everything But The Bagel Seasoning

6

wood skewers, optional
Instructions
Making the Mummies
Open Crescent Roll and press seems together. Using a pizza pie slice cutter, cut even, thin strips of dough. About 6 per hotdog.

Remove hot dogs from packets and pat dry with paper towel.

Wrap hot dog in the crescent roll strips.

Brush each mummy with the egg wash and sprinkle Everything But The Bagel seasoning mix.

Bake according to packaging instructions, about 12-15 minutes or until golden.

Serve with standard hotdog condiments – ketchup, mustard, relish.
Impaling the Mummies
Prepare your serving bowl or container, like the hollow skull head I used, with craft foam and green moss.

To impale the mummies, insert a wooden skewer from the bottom up to the center of the hot dog. Leave a few inches of the wooden skewer exposed to pin in place and handle.

Once the mummies have baked, insert in the foam and stand upright. Your guests can pluck a mummy from the cemetery.