Are these not the cutest cinnamon sugar puff pastry broomsticks? Think Palmier cookies… crisp, flaky puff pastry coated in cinnamon sugar and baked to perfection! My inspiration for these sweet pastry treats came from two places: (1) from Michael Wurm at Inspired by Charm (he made an amazing broomsticks chalk art for his mantle) and (2) a post on Pinterest. See my disaster below.
Note: I can't say enough about Michael's blog. It's stunning, beautifully presented and easy to follow. Michael is a creative and warm person who is helping all of us live a charmed life. His blog is filled with ideas ready to inspire the reader. No matter what project you're tackling, Michael will have a post to help you through it. Check out his web site and follow him on Instagram! I know he will be your favorite blogger, too!
I knew I wanted broomsticks at my Hocus Pocus Halloween Party, but I didn't like the combination of pretzels with pastry dough from Pinterest, so I went all in with puff pastry dough. One box of puff pastry will yield 21 broomsticks, 7 broomsticks for every 2 sections of the pastry dough. One section will be for the broom handle and the other section for the broom bristles. A little egg wash, a sprinkling of cinnamon sugar and 20-22 minutes later – broomsticks!
MAKING WITCH'S BROOMSTICKS
On a lightly floured board, cut a section of puff pastry into seven even strips (broom handles) with a pizza cutter or sharp knife. Set aside. Use a floured rolling pin to roll the second section of puff pastry until it's very thin and pliable. Slice matchstick strips with a pizza cutter for the bristles. Cut 4 strips a little thicker and cut them in half for a total of 8 strips. These thicker strips will serve as the coil that wraps around the bristles and gives it that finished broom look.
Divide the matchstick strips (bristles) into seven equal sections or do like I did and just grab a bunch at a time. Cut that bunch in half and gently pinch half onto the front and the other half onto the back of the broomstick handle. Wrap the coil strip around the top of the bristles and set on a parchment lined baking sheet.
The best part about using puff pastry for the broom was the ability to twist and shape them into crooked brooms, something you couldn't do with a pretzel rod. Shape your brooms and lightly brush them with an egg wash (beaten egg with a little water) and generously sprinkle with the cinnamon sugar mixture. Pop them in the freezer while the oven preheats for about 10 minutes. Bake them at 375°F for 20-22 minutes, or until golden.
Note: While puff pastry baking instructions states to bake at 400°F, I think that high temperature would burn the bristles, so 375°F worked perfectly for me.
How pretty! These turned out better than what I imagined! Tastes just like Palmier cookies, but in the shape of a broom. Perfect for any Halloween party or a gardening themed party (if you have a gardener in your life). I hope you try these out and make your own collection of crooked witch's broomsticks! Leave a comment and let me know how they turned out.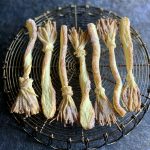 Witch's Broomsticks
Crispy and delicious cinnamon sugar pastry shaped like a witch's broomstick! Perfect for your next Halloween or Garden themed party!
Ingredients
all-purpose flour to lightly flour board and rolling pin

1 box

ready to bake

puff pastry sheets (2 sheets per box)

prefer Pepperidge Farms brand

egg wash

whisk 1 egg plus a splash of water

cinnamon sugar blend

optional: sprinkles and other edible decorations
Instructions
Remove puff pastry from freezer and thaw for 30 minutes at room temperature.

Lightly flour your board and rolling pin. Unfold the puff pastry sheet and cut along the fold to separate each sheet into three sections for a total of six sections. Three sections will be used to make the handles, and 3 sections will be used to make the bristles.

Handles: Working with one section at a time, cut into seven long strips. Set aside.

Bristles: Working with one section at a time, roll thin on a floured board and use a pizza cutter to make matchstick strips. Make 4 thicker strips for the coil around the bristles. Cut those in half and set aside from the matchsticks.

Divide the matchstick strips into seven and grab a bunch. Cut the bunch in half and gently pinch one half to the front of a handle strip and the other to the back. Wrap with a coil piece and set on a lined baking sheet. Repeat until all seven broomsticks are assembled.

Note: I trimmed the handle by an inch in order to fit 7 brooms on one half-baking sheet.

Shape your broom handles, lightly coat with an egg wash and sprinkle cinnamon sugar mix on top.

Pop the baking sheet into the freezer while you preheat the oven to 375°F. About 10 minutes. Transfer from freezer to oven and bake for 20 – 22 minutes or until golden.

Tip: If your oven has a hot spot, turn the baking sheet halfway through the baking process.

To make all 21 broomsticks, repeat the steps above and bake in batches.

Egg Wash: whisk well one egg and a splash of water

Cinnamon Sugar: combine 1 part cinnamon powder to 4 parts sugar. For a more pronounced cinnamon flavor, do 1 part cinnamon to 3 parts sugar.