Halloween is a holiday with a flare for fantasy and make-believe. Everything about it screams of things that scare us and excite us simultaneously. That same spirit and creativity should be extended to your menu and table to enhance the overall experience for your guests. Be creative, think creepy, macabre, spooky, gothic or even slimy. Use creepy cloth, spiders and webs, red or black candles, skulls, smoke (dry ice) and give the room ambience with lighting and mirrors. If decorating with flowers, use dry/dead flowers or flowers and foliage with dark hues. Rename all of your dishes according to your theme; be it Spooky, Glam Gothic, House of Black, Night of the Living Dead, Harry Potter or Creepy Clowns. Yes, clowns can be scary and they belong under the Halloween umbrella.
This Hocus Pocus Halloween party was playful and it has a little something for everyone. It's fun, but still has a creepy factor with a combination of savory and sweet treats designed make you look twice, but eat until your heart's content. While everything is made from scratch, you can easily pull this together with store bought items and a few semi-homemade tricks (pun intended). I've listed a few easy shortcuts and hacks below to help you pull off a great menu with less time. Don't be afraid to get the kids in the kitchen – kids love Halloween. Involve the minions in your family to help you execute your perfect party menu and if things look a bit wonky, that's okay, even broken witch fingers can look like they are intentional and they taste just as delicious. I hope this post provides you with some inspiration and menu options for your own celebration.
MENU
Zombie Intestines Mild Italian sausage in puff pastry with a side of marinara sauce
Impaled Zombies Kosher hot dogs wrapped in Pilsbury crescent rolls
Cyclops Eyeballs Old fashioned chocolate truffles
Witch Fingers Delicious cookie you dip in raspberry jam
Bite Me & Graveyard Cupcakes made with either Red Velvet or Vanilla Cupcakes and decorated with vampire teeth / Milano cookie and bug sprinkles
Hocus Pocus Crack Chex cereal mix with chocolates and candy – an addictive alternative to popcorn
Candy Corn Mini Cheesecakes cheesecake batter colored and layered to mimic candy corn
Witch's Broomsticks Store bought puff pastry shaped like a broom and sprinkled with cinnamon sugar
Black Widow Smash (alcoholic adult beverage) and assorted sodas and water, not shown
Dry Ice from the local grocery store for smoking drinks
Note: Don't drink from a glass with dry ice until the dry ice has evaporated and the smoky effect has dissipated.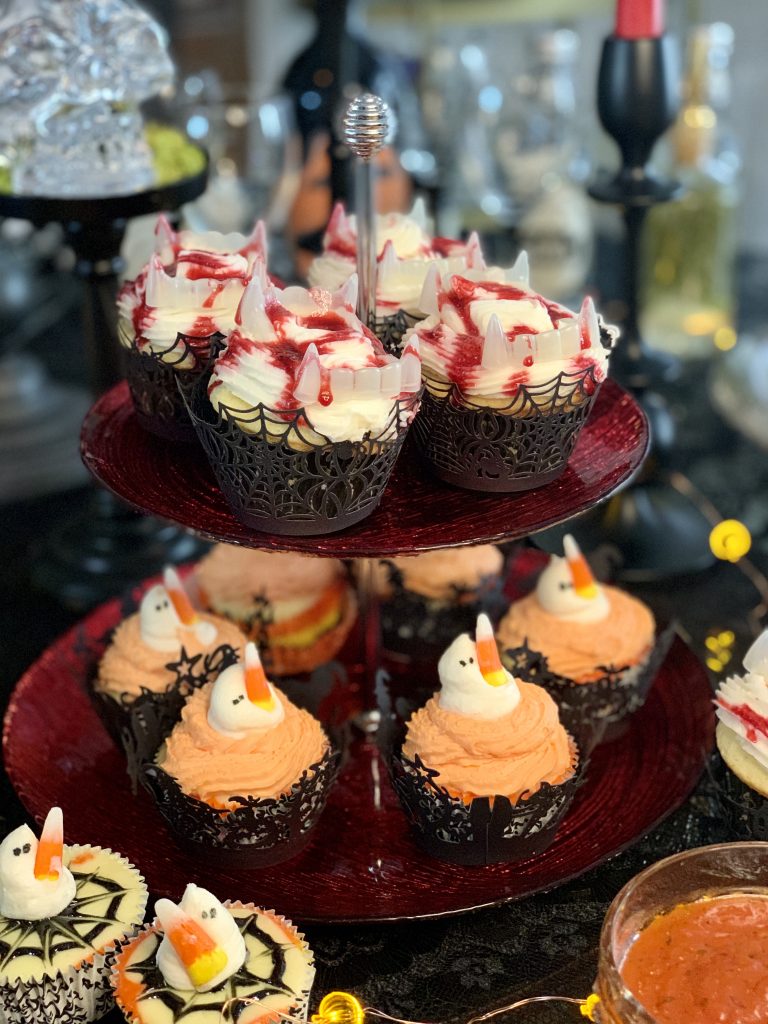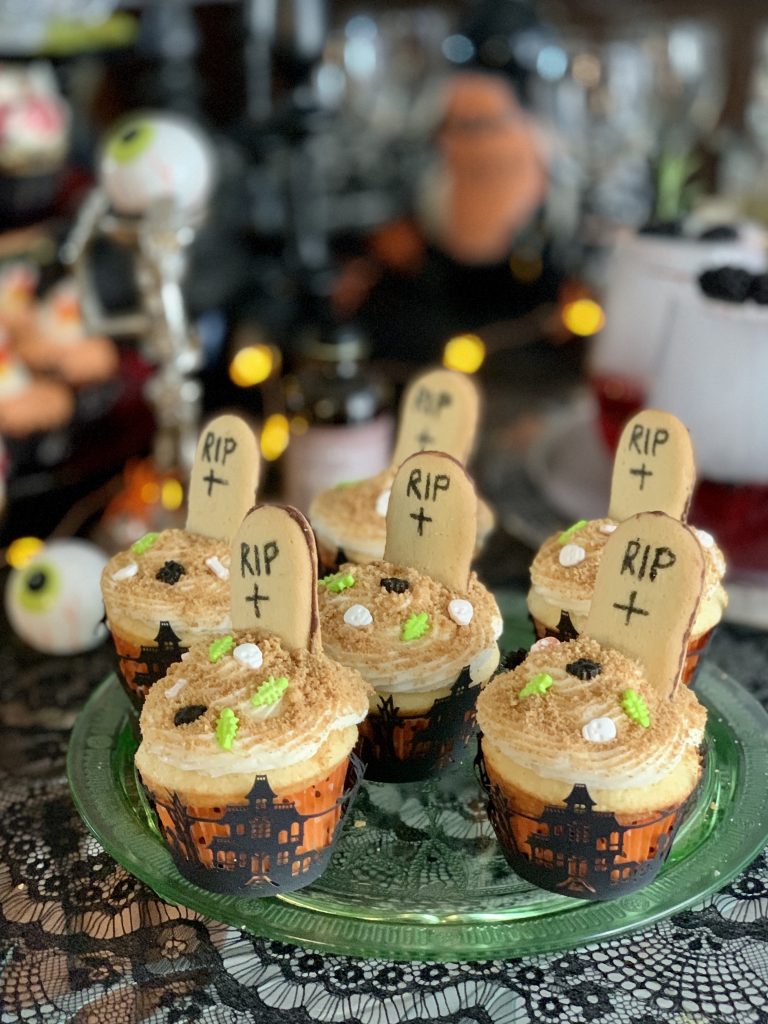 SEMI-HOMEMADE MENU TRICKS
Bite Me & Graveyard Cupcake – purchase cupcakes from a bakery and decorate with Milano cookies and halloween bug sprinkles. Use gel or an edible pen to write RIP. Vampire teeth can be purchased at the dollar store. Drip some strawberry ice cream syrup if you don't have time to make the raspberry jam.
Cyclops Eyeballs – (sweet version) purchase chocolate malt balls or Rolos candy. Roll in your hands until the chocolate melts enough to roll around in sugar and add decorative eyes. (savory version) purchase mini mozzarella cheese pearls and place a sliced green and black olive on top. Stick a toothpick through the eye for "impaled eyeballs".
Candy Corn Cheesecake – purchase a cheesecake from the frozen dessert section and cut in wedges. Purchase from the bakery white, yellow and orange frosting and decorate the wedge like a candy corn. Add sprinkles for a shiny and bright version.
A FEW OTHER MENU IDEAS
Roast Beast Mini Sandwiches – purchase a tray of mini assorted sandwiches from your local deli and decorate with Halloween food party picks from Amazon.
Veggie Platter with Roasted Red Pepper Sauce – assorted cauliflower (brains), celery (zombie fingers) and carrots (oompa loompa fingers). Served with store bought red pepper sauce or hummus.
Cheese Witch Fingers with Marinara Sauce – unwrap some string cheese and insert an almond slice through the tip, like a finger nail. Have some marinara sauce for dipping on the side.
Spooky Rods – roll large pretzel sticks in melted chocolate and decorate with your favorite sprinkles.
Blood Soup with Ghostly Grilled Cheese – store bought tomato soup and use a ghost cookie cutter to shape grilled cheese sandwiches.
Graveyard Sheet Cake – buy a half sheet at your local bakery or bake your favorite box cake mix and decorate with store bought frosting, Oreo crumbs for dirt, Milano cookies for tomb stones and sprinkles and gummy worms.
Pilsbury Sugar Cookies – slice and bake Pilsbury cookie dough (comes in a log) and either decorate the edges with sprinkles or sandwich two cookies with frosting and add a few eyes to the frosting.
Bleeding Ghosts – Strawberries Dipped in White Chocolate – dip strawberries in white chocolate and use black gel to dot eyes and nose. As your guests bite into the tasty treat, the strawberries will "bleed" out all their juicy goodness.
Carnivore Calzones – use store bought pie crust to make mini calzones using store bought marinara, mini pepperoni slices and mozzarella cheese.
Frankenstein Brains – roast broccoli florets and top with a garlic Panko mix. Have some ranch dressing on the side for dipping.
See how easily you can rename any dish, including broccoli, a give it a spooky Halloween name? I'm sure you can come up with some amazing menu ideas that will surprise your guests.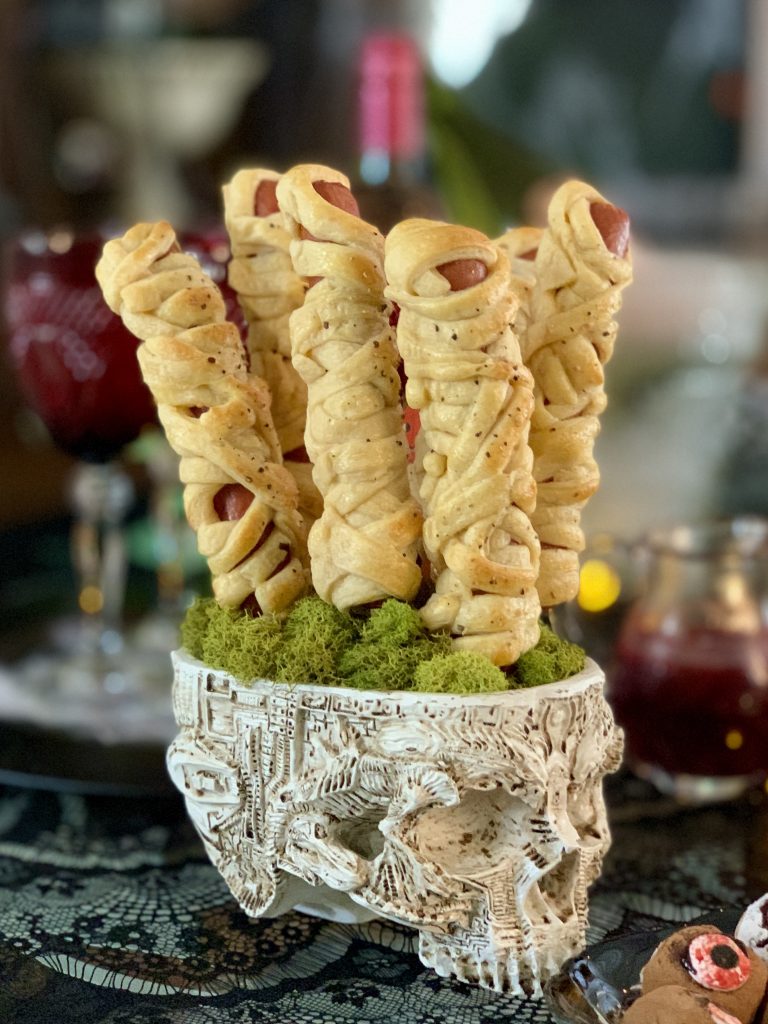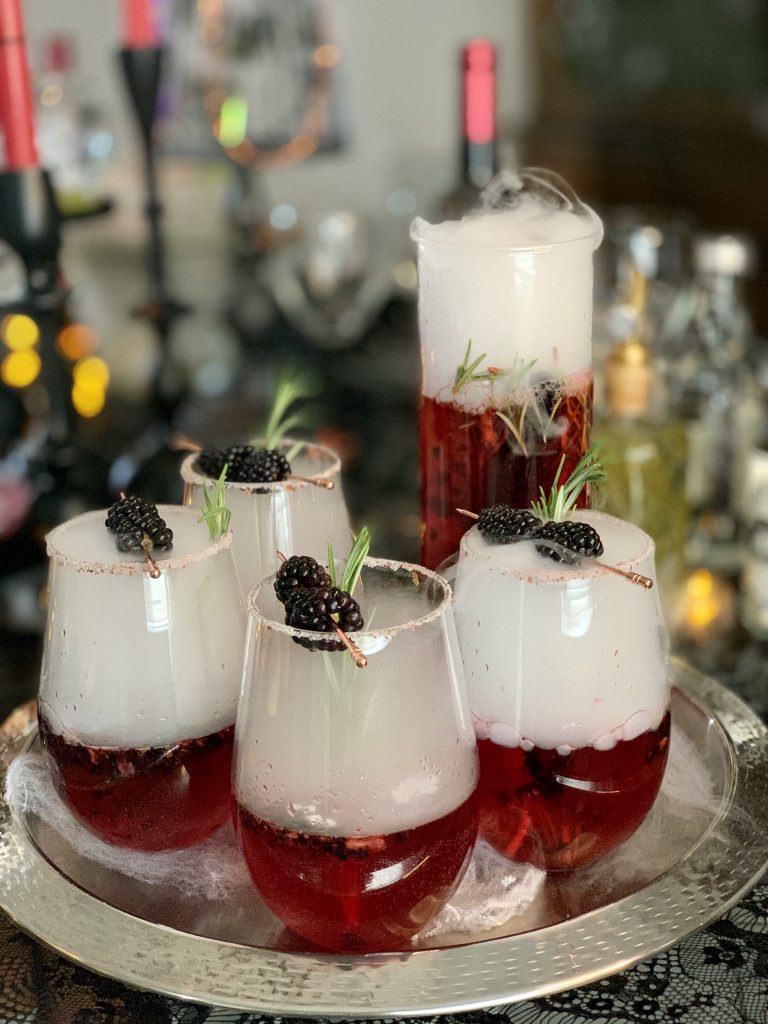 DIY
Mini Poison Bottles – used empty vanilla extract brown bottles, removed their label and applied a vintage label from Martha Stewart. I love how they turned out and they are so small, I saved them for next year. Many sites offer free printable labels. I purchased mine at Michael's many years ago.
Garden Skull (Impaled Mummies) – filled the bowl with styrofoam and covered with green moss. It added a pop of color and a garden effect for the mummies.
SOURCING
Black Candlesticks from Marshalls, 2019
Lace Fabric from JoAnn's (2 yards)
Spider Bowl from Walmart
Dia De Los Muertos Black Candy Dish from HomeGoods
Eyeball S&P Shaker from HomeGoods
Silver Mummy Candle Holder from HomeGoods
Small Glass Skull Head from HomeGoods
Pumpkin String Lights from HomeGoods
ChezMaz Resin Halloween Skull Candy Bowl from Amazon
Halloween Laser Cut Cupcake Wrappers from Amazon
Barfly Antique Brass Ice Talons from Amazon
Mini/Child Skull Fork & Spoon from Amazon
Wine Bottle and Poison Labels, vintage Martha Stewart, similar ones can be found on Etsy or Amazon
Creepy Cloth, Spider's Web and Spiders, Red Candles & Plastic Grey Skeleton Glasses from Dollar store
Assorted Vintage Antique glassware, pressed glass ice bucket, trays and sauce pitcher are antiques I've collected over the years.
If you find this post inspirational, please leave a comment below. I would love to know how your Halloween party turned out! Trick or Treat!