Happy birthday America! I love celebrating the 4th of July at home with family and friends. My perfect day is by the pool, sipping cold drinks, eating good food and watching the fireworks at night.
Prior to blogging, my decorations were sparklers! As a new blogger, I imagined this year I would share images of a beautiful tablescape and scrumptious dishes displayed just so, but in true contrast between imagination and reality, I didn't capture nearly anything of what I wanted to post. We were a hungry bunch (savages really) and the food was gobbled up before I could snap pictures with my iPhone. So here are the few images I did capture along with my menu.
Oh My Stars cocktail is my cousin Maggie's version of Goombay Smash Punch plus a little simple syrup.  I thought it was the perfect refreshing, fruity drink to sip pool-side.   I combined all the ingredients in a clean gallon container and let the flavors marry overnight.

Oh My Stars Punch:
82 ounces Pineapple Juice
12 ounces Bacardi Rum
12 ounces coconut flavored Rum
12 ounces Apricot (or Peach) Brandy
1-2 cups of simple syrup,  to taste (I used 2 cups for 82 oz. of pineapple)
In additions to the standard hamburgers and hot dogs, beer and sodas, I served:
Sweet & Spicy Coleslaw – Make the spicy sauce the night before so the sugar breaks down. Toss with the slaw the day of the party.
King's Hawaiian Roll Ham & Cheese Party Sandwich – These come together so quickly! I like to score the sandwiches so I can pull apart when they come out of the oven. My version has no mayo and in addition to pouring the sauce over the rolls, I brush the inside of the rolls and score them before baking.   
Classic Apple Crisp – There's nothing more American than apple pie… or apple crisp in this case! This crisp is so delicious.  It has all the flavors of an apple pie with that crunchy topping.  I made a big casserole dish. We scooped it out and served with ice cream.
Kale, Caesar! Salad (as in Hail, Caesar!) – Every time I make this salad I never have leftovers.  The night before I remove the leaves from the stalks and I wash, rinse and finely chop the kale.   I cut the romaine into slightly thicker strips and store them in a Ziploc bag overnight.   About 30 minutes before serving, I cook the bacon, finely chop three boiled eggs, shave the Parmesan and halve the cherry tomatoes.   This wasn't a fancy dinner so I dressed the salad with store bought Panera's Caesar salad dressing and garnished with bacon and Parmesan.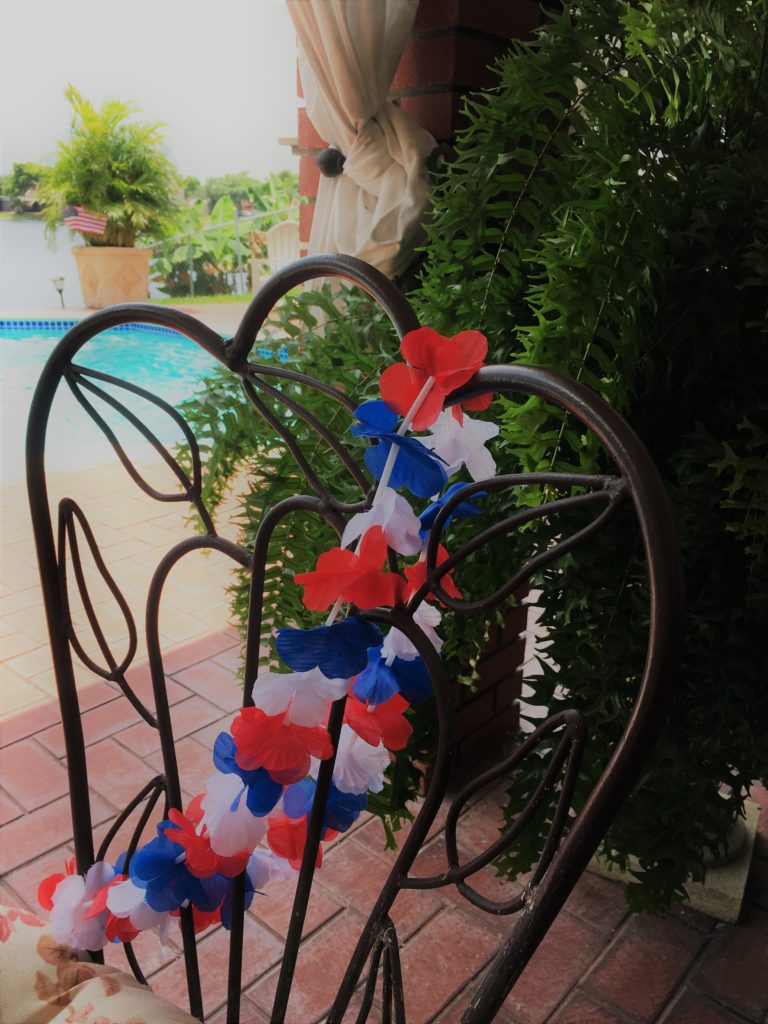 Sourcing my last minute decorations:
This was a last minute impromptu gathering with friends. While I didn't plan or have the things I wanted, the company and laughter made up for the lack of decorations.
Dollar Store – paper straws, garden flags, garden picks and patriotic leis.
Pier 1 – table runner, serving trays, Oh My Stars cups.