This is a fun tablescape for children of all ages. Our beloved Peter Rabbit and friends take center stage once again at this lovely table. Initially I wanted an alfresco setting, but alas the Florida weather did not cooperate. So I set up the theme indoors, I still love how it turned out and I hope you find it fun and whimsical, transporting you back to your childhood and those magical days!
HISTORY
The classic tales of Peter Rabbit and friends is a wonderful world curated in the mind of Beatrix Potter in 1893 and published in the early 1900s. I read these books as a child and then again to my daughter. The story, the charming drawings and the soothing colors has transfixed all of us. The story of Beatrix Potter and how she created this magical world was brought to the screen in 2006 by Renée Zellweger and Ewan McGregor in Miss Potter. The movie has a wonderful cast and it's beautiful to watch – the set design and costumes alone are gorgeous! This is a movie fans of all ages can enjoy.
Someone recent asked me why Spring is symbolized by a bunny among other animals like chicks – my best guess is it dates back to pagan times. Spring is definitely a time of rebirth or renewal so you can't miss decorating with baby bunnies and chicks and a bounty of beautiful flowers.
INSPIRATION & CREATING THE LOOK
My inspiration was Pinterest and Pottery Barn's Peter Rabbit Collection. My 90-inch round Marseille linen tablecloth from Ballard Design was the perfect backdrop for my theme. The sage color is reminiscent of the colors in the story and it is the perfect backdrop for my indoor garden. Isn't this centerpiece gorgeous? I'll get to it further in the post.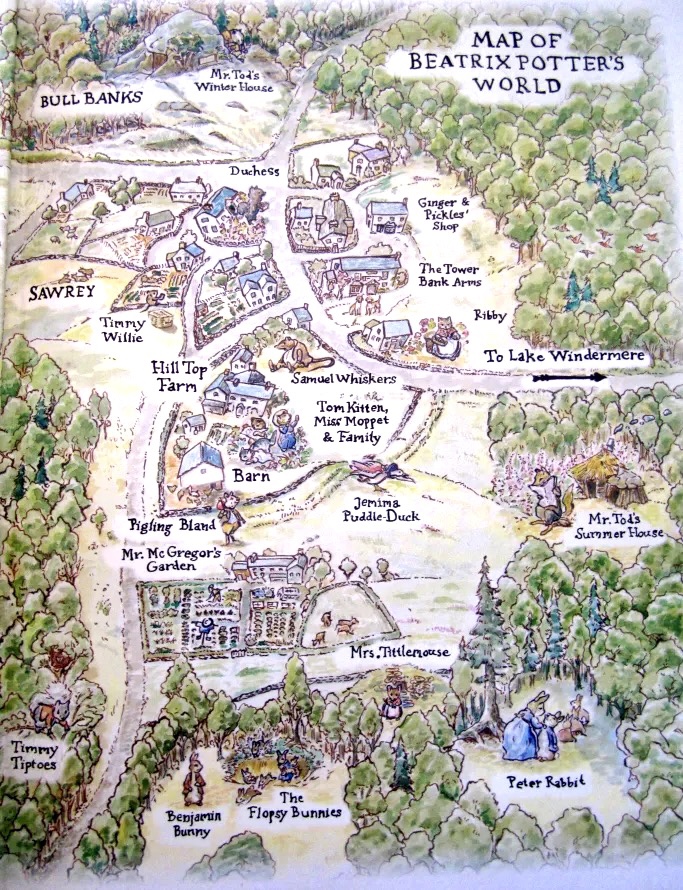 In keeping with the garden theme, I needed to incorporate elements of grass and wood. I was looking for a faux greenery placemat/charger, but I didn't find any I liked, so I created my own. I'll write up a post soon and link it here. They turned out better than I had hoped and they add a much need contrast to the table.
For the wood element I wanted these Serena & Lily placemats, but they were too expensive. I found an affordable 13.4 inch rattan woven placemat set of four on Amazon (they are currently unavailable and I can't link them). I love how the weave allows the greenery to peek through. My faux garden table is starting to come together.
On a Sunday brunch outing in Palm Beach, we stopped at TJMaxx and I found up these Beatrix Potter Collection Peter Rabbit dinner plates. They are as beautiful as Pottery Barn's Peter Rabbit Collection and they paired perfectly with my Pottery Barn Peter Rabbit napkins.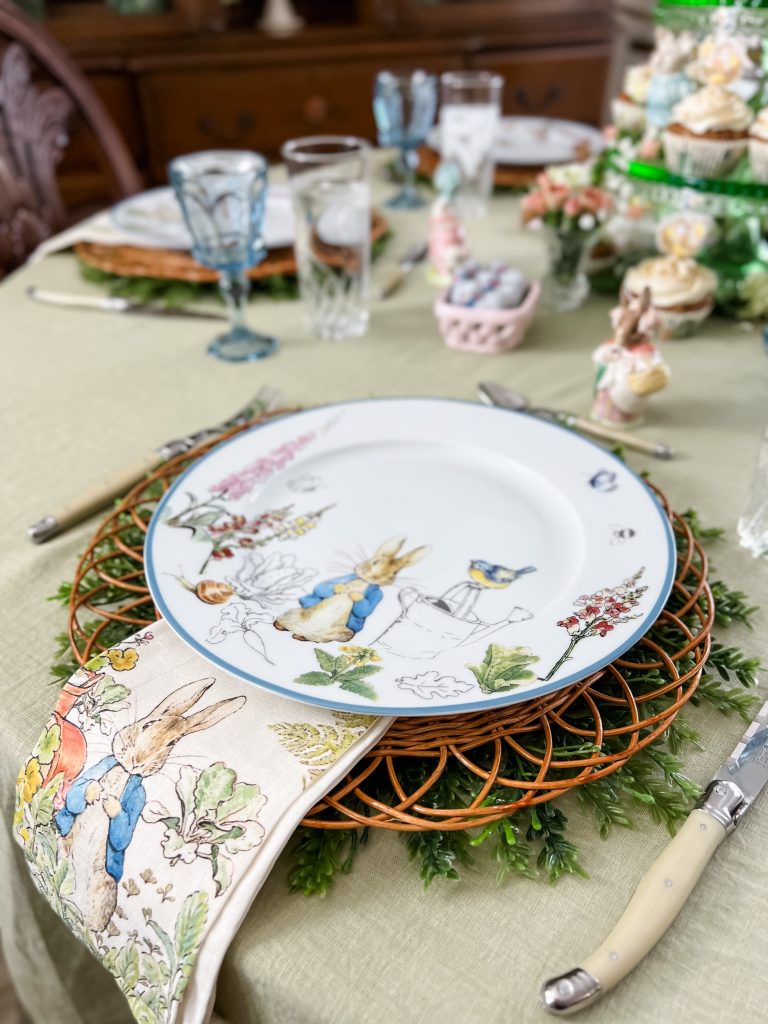 Since the tablecloth is a French linen, I thought I would add these beautifully crafted ivory Laguiole Jean Dubost flatware set. An excellent HomeGoods find last year. The handle has a bee design, adding to my garden theme. Can you see the bees? My Fostoria Virginia blue water/wine goblets are the perfect shade of blue to match the plate rim. While these are vintage finds, you can sources them on Replacements, LTD or eBay.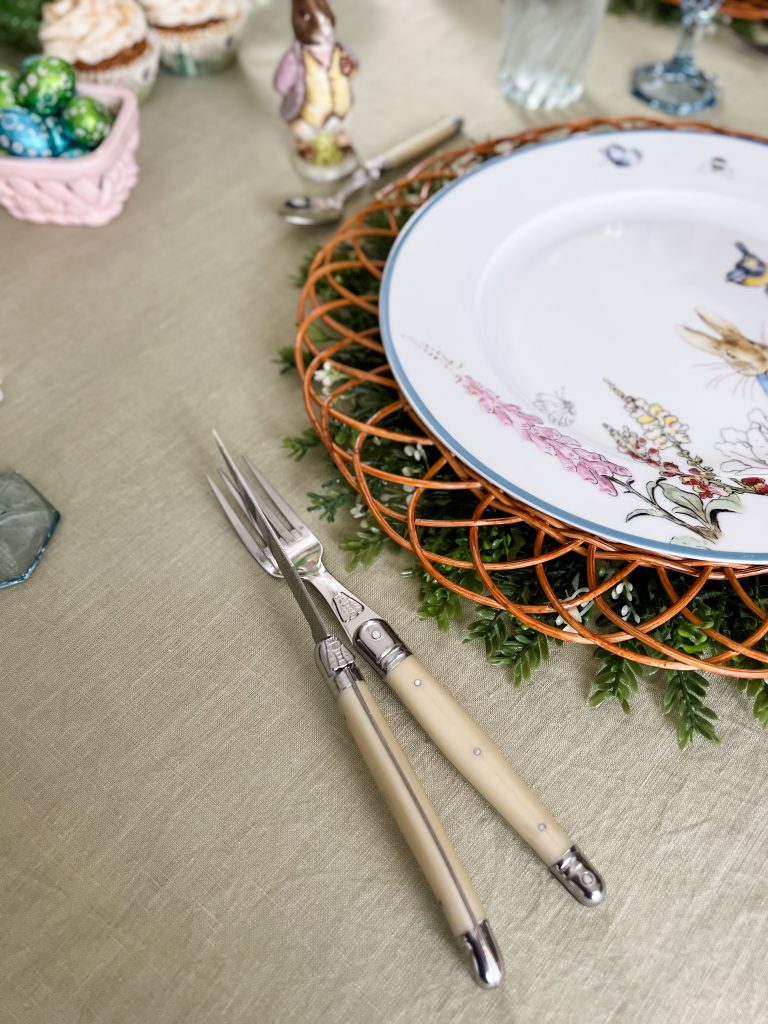 I have been collecting Royal Albert Beatrix Potter ceramic figurines for some time now and I wanted to showcase them at the table. Each place setting has its own character plus a few are tucked in the centerpiece. A little greenery, flowers and baby's breath in bud vases filled in the spaces and adorned the table.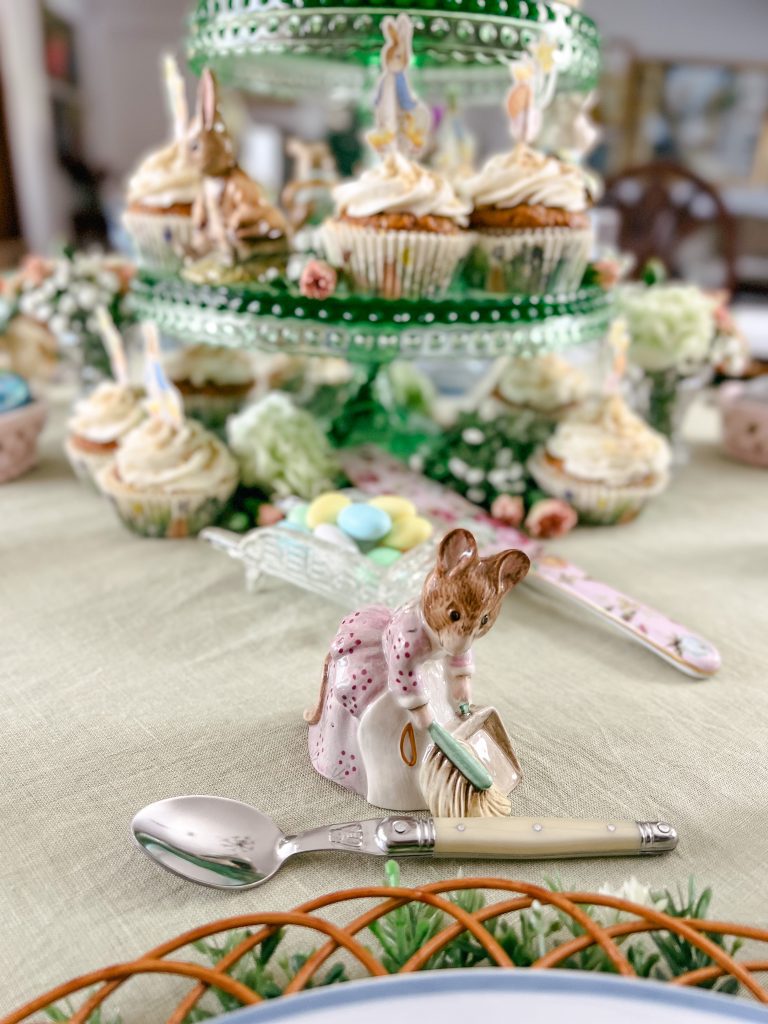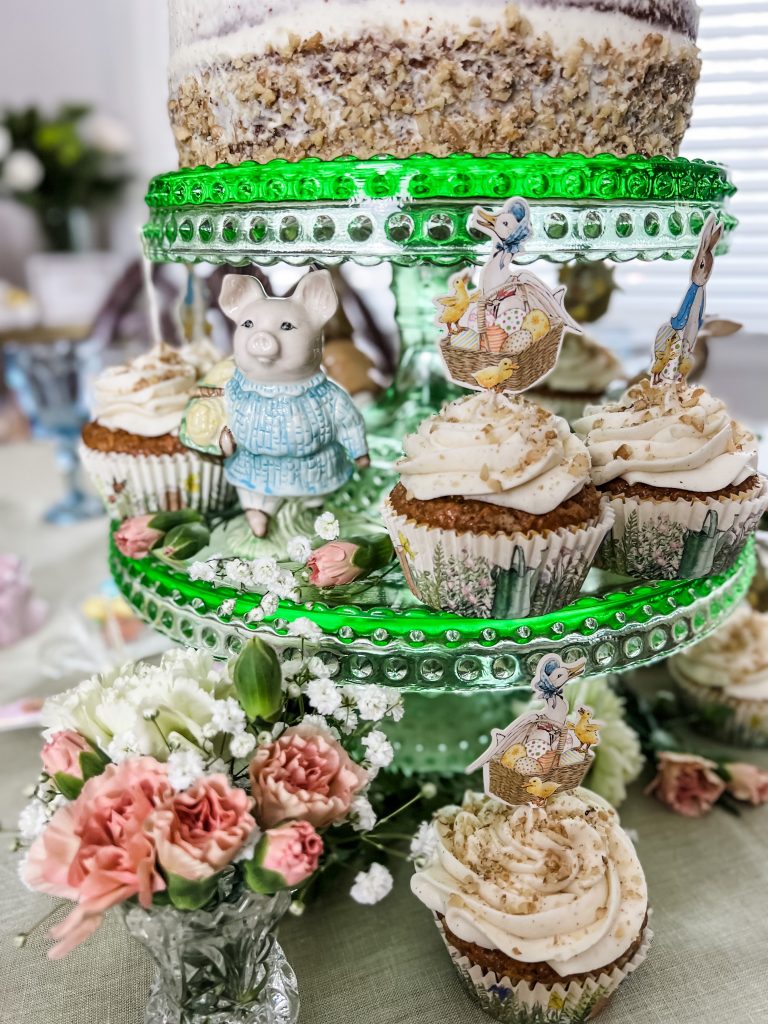 Now to the showstopper centerpiece! I few years back I purchased three L.E. Smith green hobnail cake stands on eBay. I absolutely love them and they are so versatile and gorgeous. Shown here are only two since the cake, my Ultimate Carrot Cake recipe, is an 8-inch cake. If you don't have a good one or would like to try another recipe, this carrot cake recipe is truly great and it has the most delicious brown butter cream cheese frosting!
While at HomeGoods, I came across Peter Rabbit salt & pepper shakers thinking I would use them as intended, but they worked perfectly as a cake topper since they are larger than the Royal Albert figurines and truth be told, I'm not a cake decorator.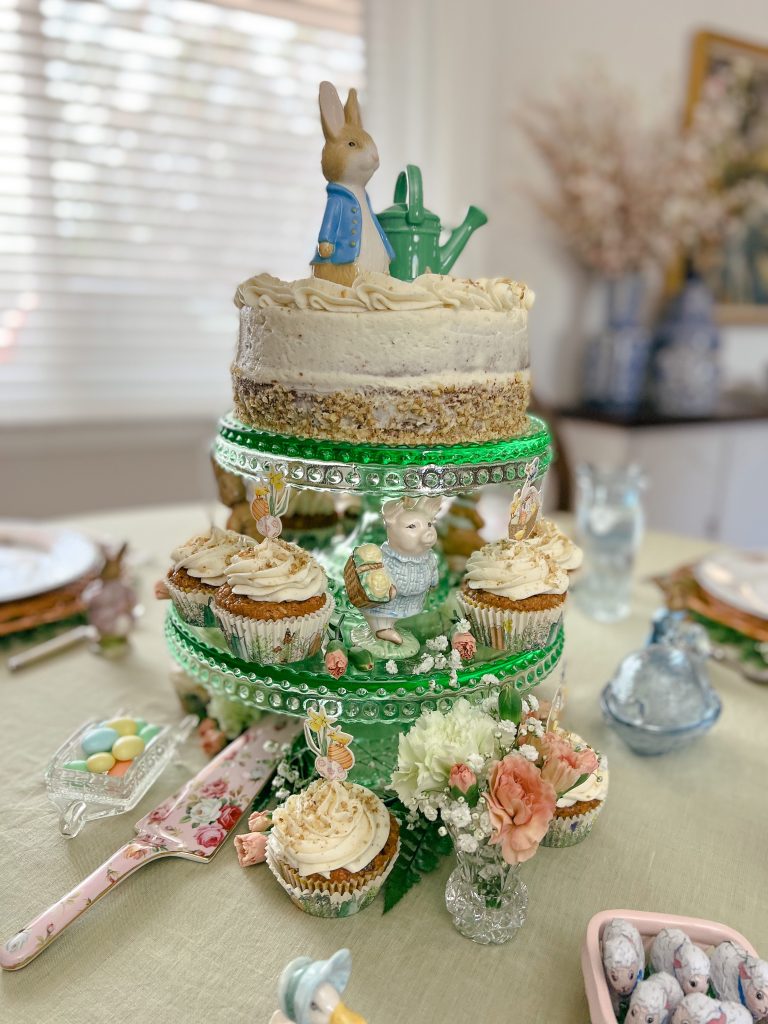 This tablescape is charming and whimsical with it's beautiful colors and cast of characters. It is perfect for Easter or any Springtime celebration. It would also be lovely for a themed birthday party.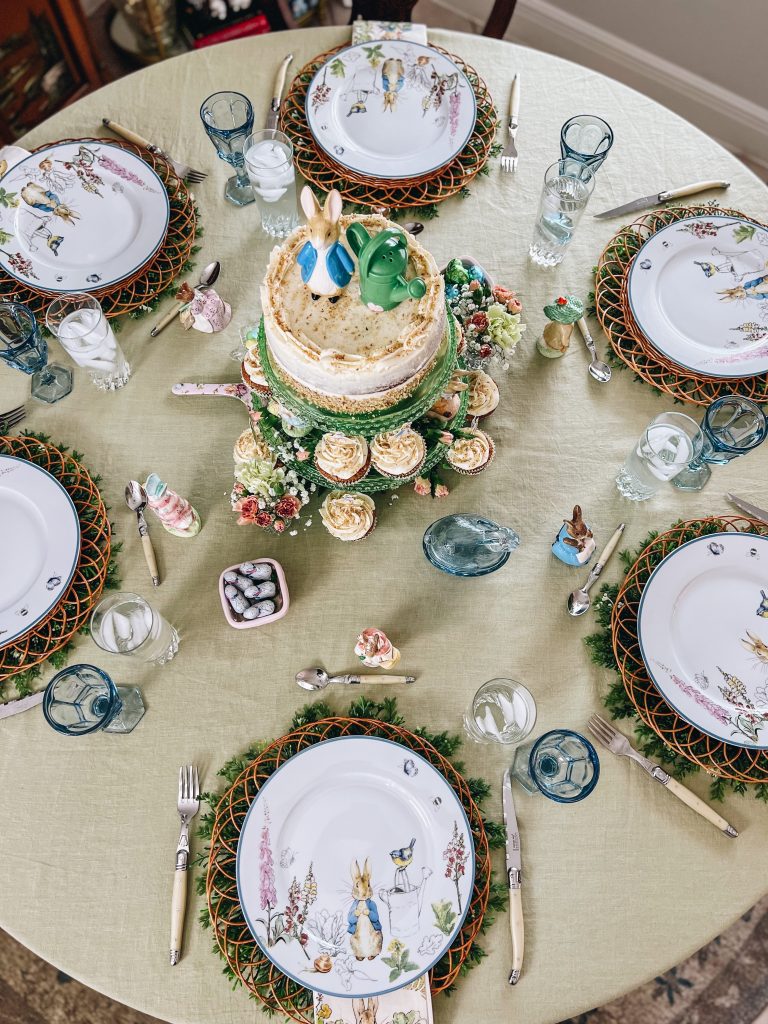 I still plan to style an alfresco Peter Rabbit tablescape so stay tuned!
SOURCING
Sage Marseille Linen tablecloth – Ballard Designs
Faux Greenery Placemat – DYI Project
13.4 inch Rattan Woven Chargers – Amazon, unavailable, but keep an eye out for them
Peter Rabbit dinner plates – HomeGoods
Petter Rabbit napkins – Pottery Barn
Laguiole Jean Dubost Flatware – HomeGoods
L.E. Smith Green Hobnail Cake Stands – vintage, try Replacements LTD, eBay or antique stores