I love trifle desserts. They are delicious, easy to assemble and always make a statement. This dessert has been requested at Christmas Eve dinner for over 25 years, but you can make this any time of the year. This showstopper trifle dessert has rich chocolate layers of brownie and pudding contrasted by the lightness of the whipped cream and the freshness of the macerated berries in Grand Marnier!
You'll need two brownie mix boxes and their required ingredients listed on the box, one large container of ready made chocolate pudding, one container of strawberries, one of blueberries, sugar, two cups of whipped cream and Grand Marnier or other orange flavored liquor.
Prepare the brownies: Follow the instructions on the brownie mix and bake accordingly. I like to bake mine in an 8X8 square Pyrex dish to get a thick brownie layer. Sometimes I add chocolate chips for added crunch, but that's totally up to you. Once baked, set aside to cool to room temperature and prepare the other components. You can totally make your own brownies from scratch, but if you're in a pinch or don't have all the brownie ingredients, a box mix comes in handy.
Note: Since each oven is different, watch the brownies closely. I always set my timer 5 minutes earlier and check for doneness by inserting a toothpick in the center. If it comes out crumbly, not wet, I remove them from the oven. As they cool, they will continue to cook, but they won't be dry. Baked items are typically done the minute you can smell them – especially when baking anything chocolate – chocolate just tends to dry out more, making red velvet anything so difficult to get moist!
Prepare the macerated fruit: In a glass bowl add the sliced strawberries, blueberries, about 2-3 tablespoons of sugar and about 1/4 cup of an orange flavored liquor. I normally don't measure, I just sprinkle some sugar into the bowl and pour enough to coat the fruit. Mix well and set aside for 30 minutes. The fruit will release its juices and develop a delicious syrup.
Note: You can use any berries you like – add raspberries, blackberries or pomegranate arils!
Prepare the whipped cream: In a cold mixing bowl whip 2 cups of heavy whipping cream with 2 heaping tablespoons of confectioner's (powdered) sugar and a teaspoon of vanilla extract. Whip until firm peaks form. Use to assemble trifle immediately or refrigerate until you're ready to assemble.
Note: It's important to use a cold bowl and cold whipping cream so it properly develops. Sometimes I pop the mixing bowl in the freezer for about 10 minutes to get a good chill on it. If refrigerating, place a plastic wrap film on top so it doesn't pick up refrigerator smells.
Assembly: Layer one brownie and evenly sprinkle a good amount of orange liquor on top. Add half the chocolate pudding and spread from the center out. Add a few ladles of the fruit and syrup mixture until you have an even layer. Top with half the whipped cream and again, spread from the center out to the edge of the trifle. Repeat layers and garnish with fruit.
Note: I like to cut a round disc the size of the trifle bowl and insert it into the bowl as a single piece because I get an even brownie edge around the bowl. To do this, use a parchment paper to measure the bowl and use the parchment pattern as a guide to cut the brownie disc. I keep the remaining brownie scraps for brownie sundaes or brownie pops. You can also cut the brownie in squares and add them to the bowl, I would first trim the edges off since they tend to be crispy.
Don't have a trifle bowl? Don't worry, make individual trifles in dessert bowls/drinking glasses or make mini dessert shot glasses. This recipe is a method and one that can be easily adapted to your personal preferences. Is the brownie too heavy or not your favorite? Substitute it with chocolate pound cake or red velvet cake layer. Don't like pudding? Substitute it with mousse. Here's my Limoncello Berry Lemon Curd Trifle – a lovely springtime version with macerated berries in Limoncello, lemon curd and pound cake. Since it's semi homemade, this is a quick dessert to make and one that's easy enough for the kids to assemble.
Make ahead: You could make this the day before and refrigerate. I never have enough space over the holidays so I end up making it the day of. As items come out for cooking or baking, I place a loose plastic wrap on top and keep it refrigerated until it's time for dessert.
Enjoy!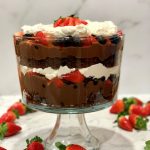 Christmas Chocolate Trifle
A showstopper trifle dessert! The rich layers of chocolate brownie and pudding are contrasted by the fresh flavors of macerated berries and the lightness of whipped cream.
Ingredients
2

boxes

brownie mix plus required ingredients to make the brownies

family size

1

22-oz

Kozy Shack ready made chocolate pudding

1

container

strawberries, rinsed, hulled and sliced

1

pint

blueberries, rinsed

2-3

tablespoons

granulated sugar

Grand Marnier or other orange flavored liquor

2

cups

heavy whipping cream

2

heaping tablespoons

confectioner's (powdered) sugar

1

teaspoon

pure vanilla extract
Instructions
Bake the Brownies
Mix and bake the brownies according to the packaging instructions. For a thick layer, bake in an 8X8 Pyrex glass baking dish. Set aside to cool to room temperature.

Note: Oven temperatures vary. Take precautions to not over bake the brownies. Insert toothpick in center, if it crumbly, remove from oven. If wet, bake for a few minutes and re-test.
Macerate the Berries
In a mixing bowl, combine 2-3 tablespoons of granulated sugar, about 1/4 cup of Grand Marnier with your fresh fruit. You can also add raspberries and blackberries, according to your preference. Toss to combine and allow to macerate for 30 minutes.
Making the Whipped Cream
In a cold mixing bowl, whip together the whipping cream, 2 heaping tablespoons of confectioner's (powdered) sugar and a teaspoon of pure vanilla extract. Cover with plastic wrap and refrigerate until ready to assemble.
Assembling the Trifle
Place a layer of brownie at the bottom of the bowl and evenly sprinkle a generous amount of orange liquor.

Note: Cut the brownie into a round disc the size of your trifle bowl by using a parchment paper to measure a template. You can also trim the edges of the brownie and cut squares – layer the squares in the bowl.

Add half the chocolate pudding in the center and spread the pudding from the center outward to the edge of the bowl. This is easier to do when the brownie is a round disc.

Ladle about half the macerated fruit evenly over the chocolate pudding.

Add half the whipped cream in the center and spread from the center outward to the edge of the bowl.

Repeat with remaining brownie, chocolate pudding, macerated fruit and whipped cream.

Garnish with fresh fruit.
Recipe Notes
Depending on the size of your trifle bowl or the amount of fruit you macerated, you may have extra macerated fruit with syrup.   You can serve it in a separate bowl or refrigerate to enjoy later over ice cream.