This tablescape was inspired by these beautiful 1970s Floral Expressions Hearthside Stoneware "Summertime" plates. These plates were made in Japan, but the year is unclear. I believe my parents purchased a set in the early 70s at JC Penney. This pattern is discontinued, but I was lucky enough to spot these at a local thrift store earlier this year for a few dollars a piece. They brought back so many childhood memories, including my uncle's leisure suits (yes, plural – he had a few) so I knew I had to get them. This table was set for an informal Sunday BBQ to celebrate a few May birthdays, but they are versatile and can be used in so many different tablescapes and themes – think bohemian, retro 1970s, floral and garden just to name a few!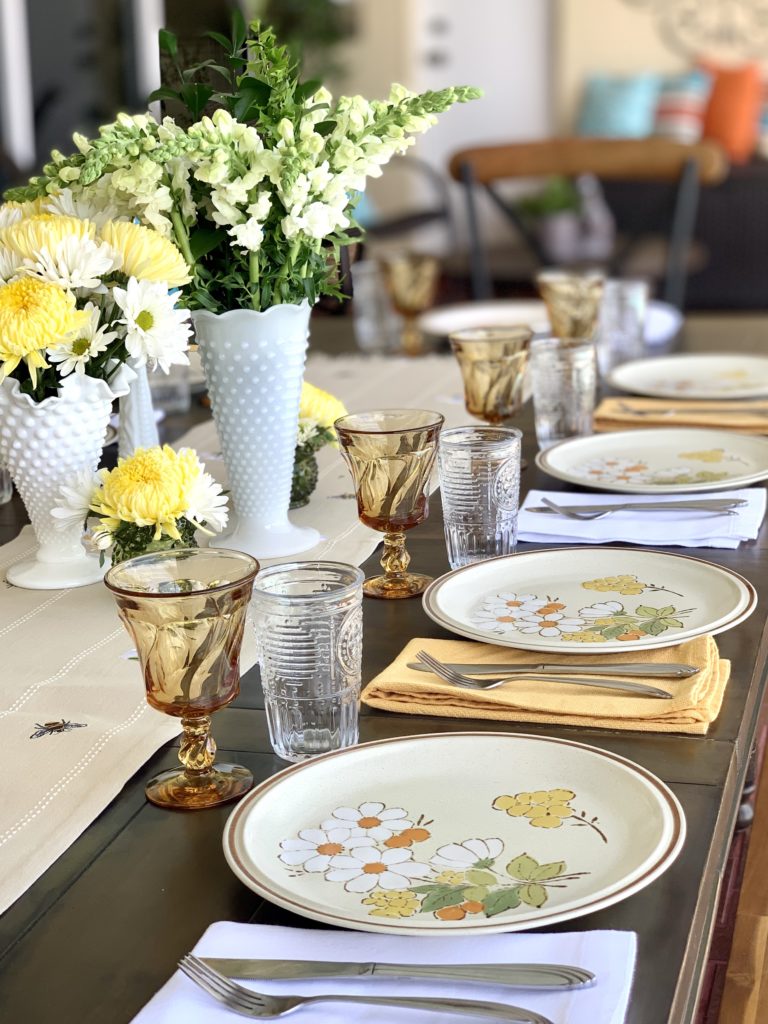 Daisies are such happy flowers, don't you agree? They are cheery and you can't help but smile when you see them. Since the plates have white daisies and yellow billy balls, I wanted to mirror the same flowers in a centerpiece. Unfortunately my local floral shop had a small selection of daisies and no billy balls. I opted for yellow chrysanthemums and white snapdragons instead to complement the colors on the plate. I divided the flowers and set them in three vintage vases and two smaller round vases. I like florals in odd number groupings. While these were antique finds, you can source them on eBay, Etsy, thrift stores, antique stores, flea markets and garage sales. I've listed below the maker and style so you know what to ask for:
Snapdragons – 9 1/2 inch Anchor Hocking Dots and Dashes hobnail vase
Daisies – 9 inch Anchor Hocking Stars & Bars bud vase, and
Daisies and Chrysanthemums – 8 inch Fenton hobnail ruffle vase
Chrysanthemums and Daisy buds – two 3 inch Fenton hobnail ruffle vases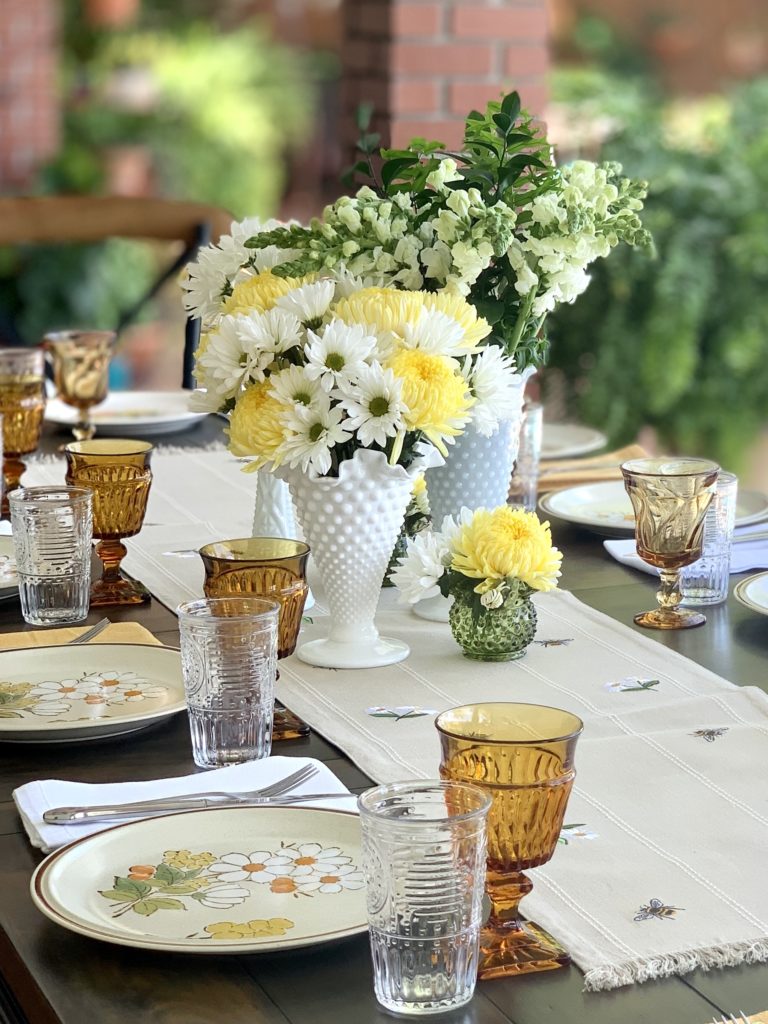 I was very disappointed when the table runner I was going to use turned out to be placemats. Bummer, but that happens when you don't read the packaging. It was early enough in the day so I went to HomeGoods and spotted this perfect table runner embroidered with daisies and bees! It was the only one peeking out from the rest and calling my name. What are the odds? In the end it all worked out well. As not to distract from the flowers on the plates, I paired them with plain white and mustard cotton napkins from Pier 1 Imports (discontinued). I alternated their placement on the table and used simple stainless steel flatware.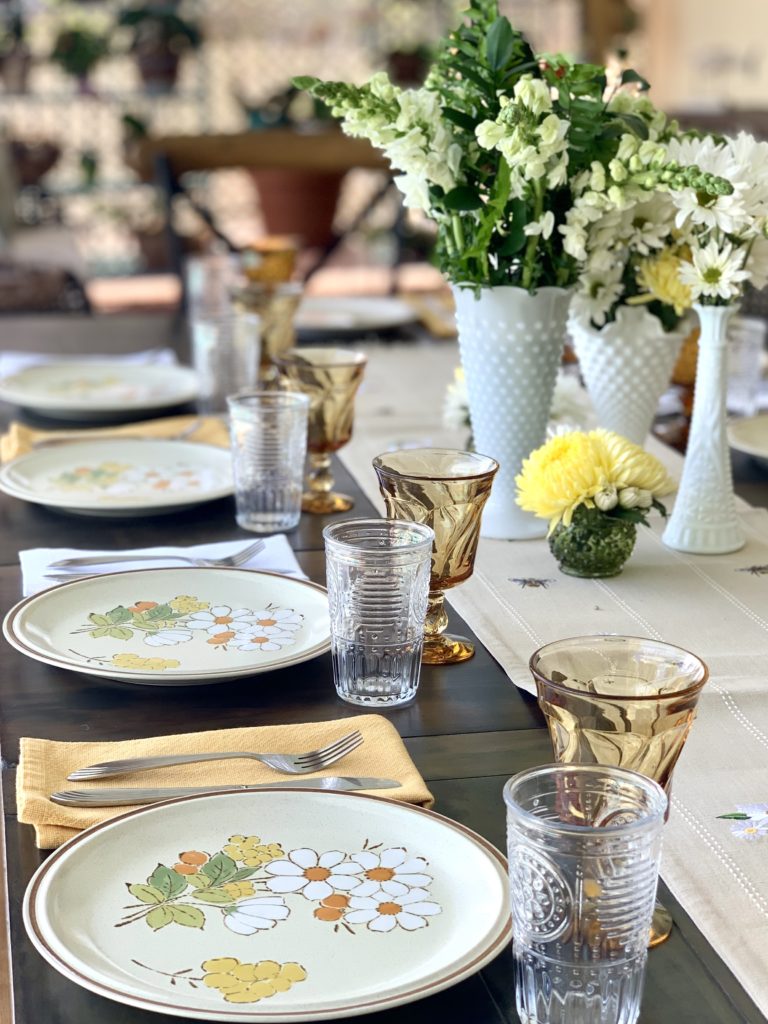 If you know me or have been following my blog, you know I have a healthy obsession with vintage pressed glasses. I love to collect, display and incorporate them in my table settings. They are such a unique addition to any table and often a conversation piece. Over the weekend I picked up these Fostoria Jamestown amber goblets at a thrift store. I love the swirl and the light amber color. I set five of them on one side of the table and set my Indiana Glass Mount Vernon amber goblets on the other side. Mount Vernon has a more intricate design and a deeper amber color. Both goblets are 6-inches high and can be used for any beverage. On some pictures you'll see some orange slices as I served my Tropical Sangria. The clear highball glasses are Bormioli Romantic Glasses.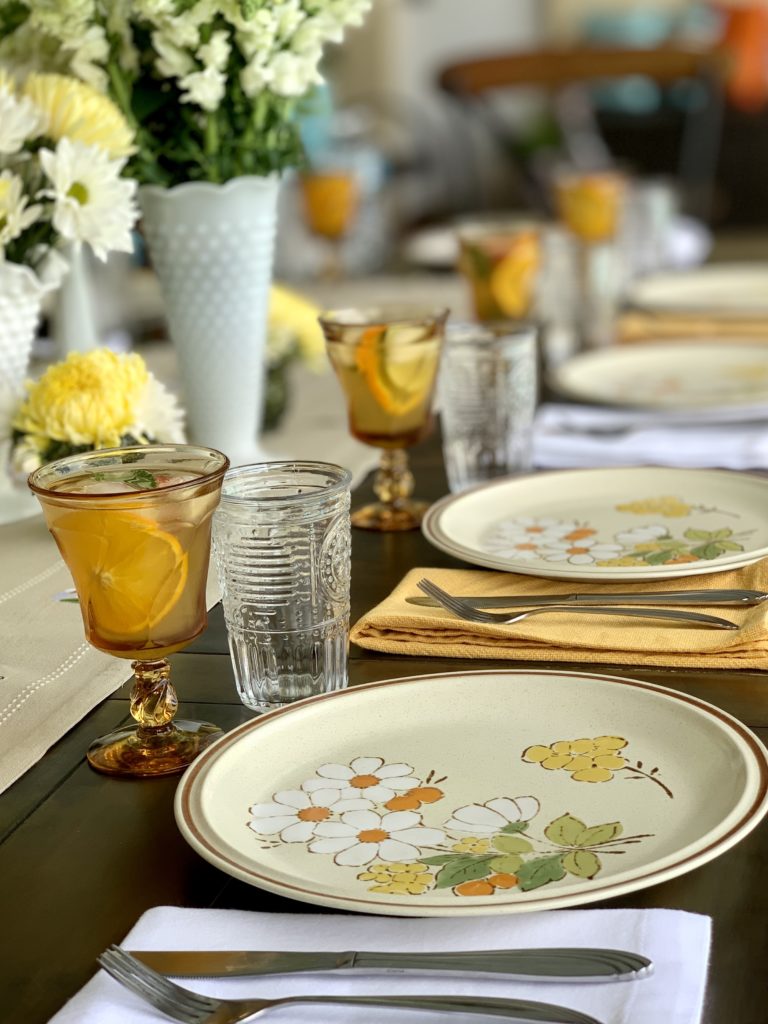 The table is a large farmhouse style table I purchased on Facebook Market Place. It didn't come with chairs, but bench seating works perfectly. I purchased Christopher Knight acacia benches from Amazon and these farmhouse chairs from Pier 1 Imports during their close out sale. This comfortably seats ten guests and it's perfect for our large family gatherings.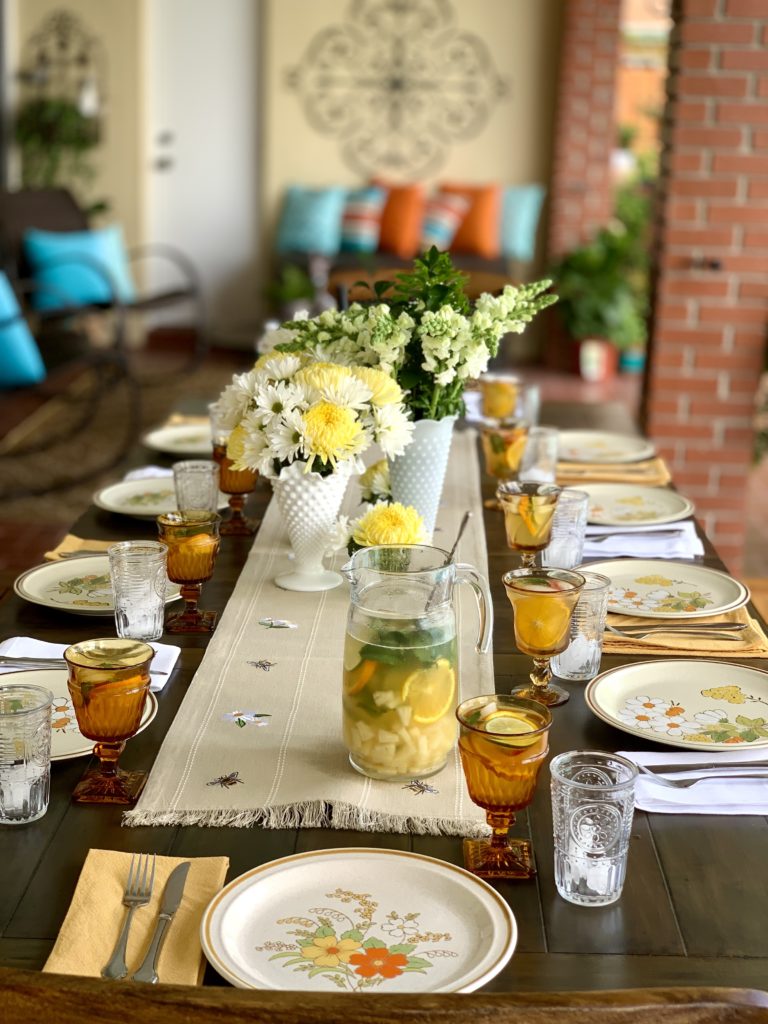 As we get back to normal and we can entertain again, I hope you find inspiration in this easy-going and relaxed vintage tablescape.