This is such an elegant and beautiful tablescape for Easter or Spring. I simply love it. I mean, what is not to love about white bunnies and golden eggs? Spring is one of my favorite decorating seasons and with all the colors and themes, bright and cheery tablescape ideas are endless! I could easily serve a beautiful brunch, lunch or dinner – albeit I would add some candles for dinner.
Working with a round dining room table can be challenging since your centerpiece space is somewhat limited and you don't want to obstruct your guest's view. I find a simple arrangement, sometimes arranged within a tray, can work best as it defines the centerpiece space.
HERE'S HOW I PULLED IT TOGETHER
Ever since I bought these beautiful white and gold plates I knew I wanted to use them as often as I could. The metallic gold dots dinner plates are Grace Teaware from HomeGoods and the cheetah salad plates are from Ballard Designs. While both are currently discontinued, you can find similar ones online. They were my inspiration.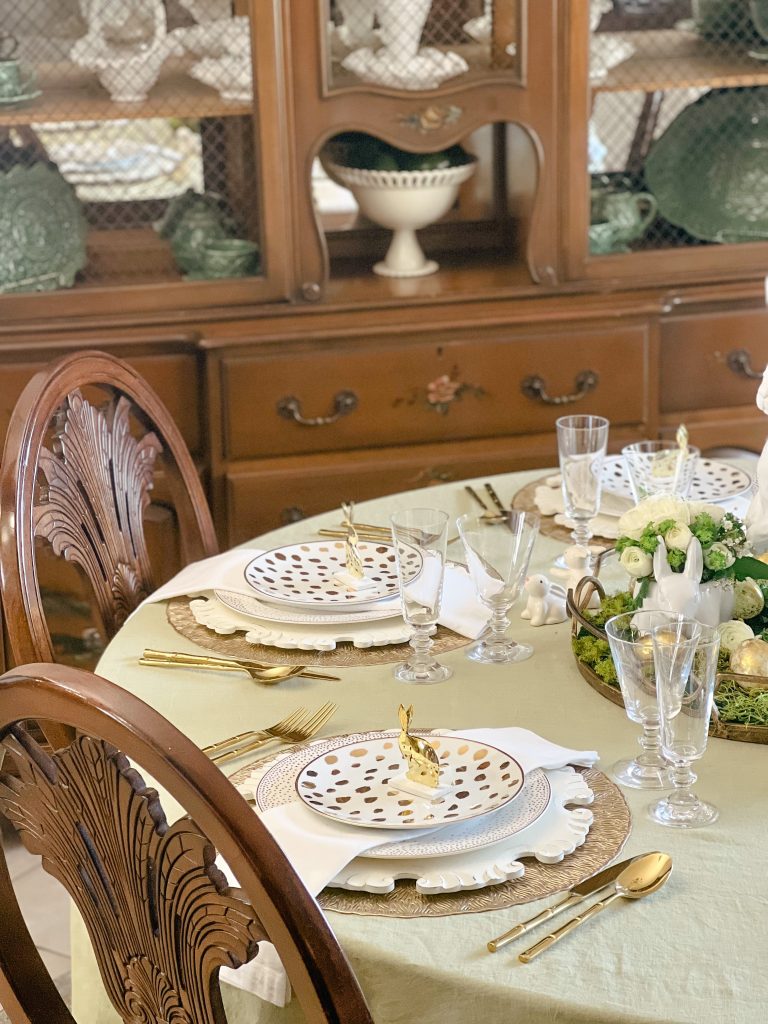 I started with my sage Marseille French linen tablecloth from Ballard Designs. I purchased it at an outlet closing for five dollars and it was a steal! The texture and quality is amazing. I wanted a little contrast, as in a soft meadow, so I didn't use a white tablecloth. The soft sage is the perfect color that allows the white and gold to pop off the table.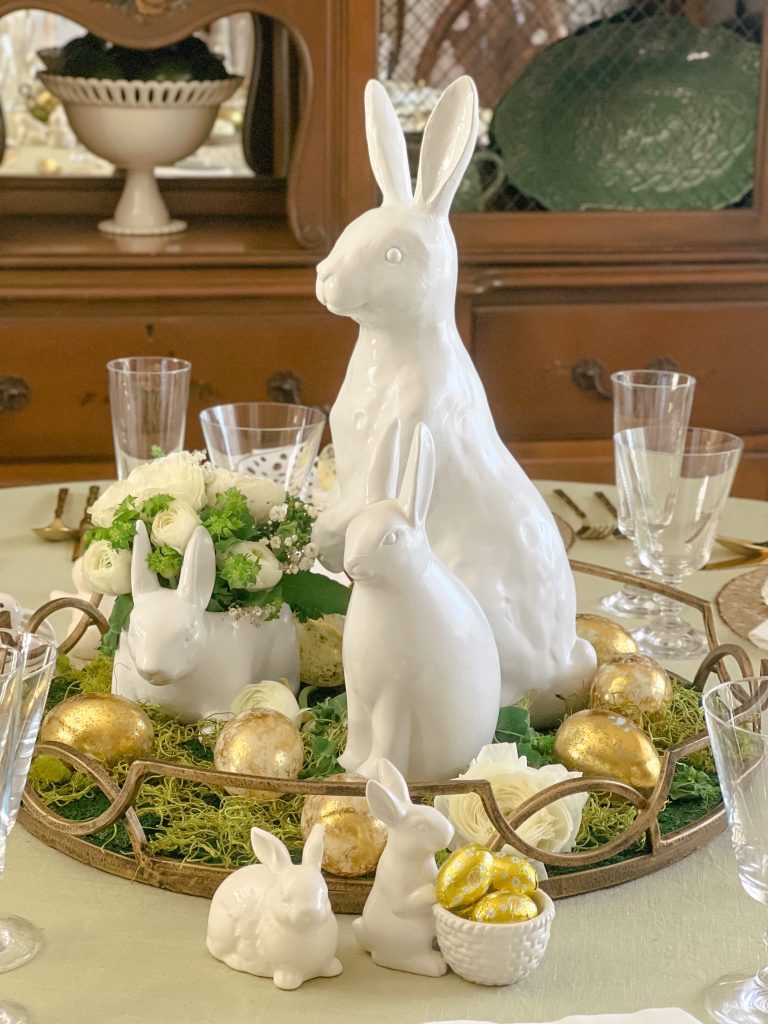 For my centerpiece, I used a golden round serving tray and layered a mossy mat with scattered moss greens and flowers. I positioned three bunnies in varying heights and scattered some gold eggs from Hobby Lobby. The bunnies were a DIY project as I couldn't source white bunnies. The tall bunny is from HomeGoods and the two smaller ones from JoAnn's. I used a can of white glossy spray paint and made them look cohesive for very little. Sitting pretty, outside the centerpiece are two small bunnies, both thrift finds. The bunny with a basket is a Williams Sonoma Sculpted Bunny – what a find!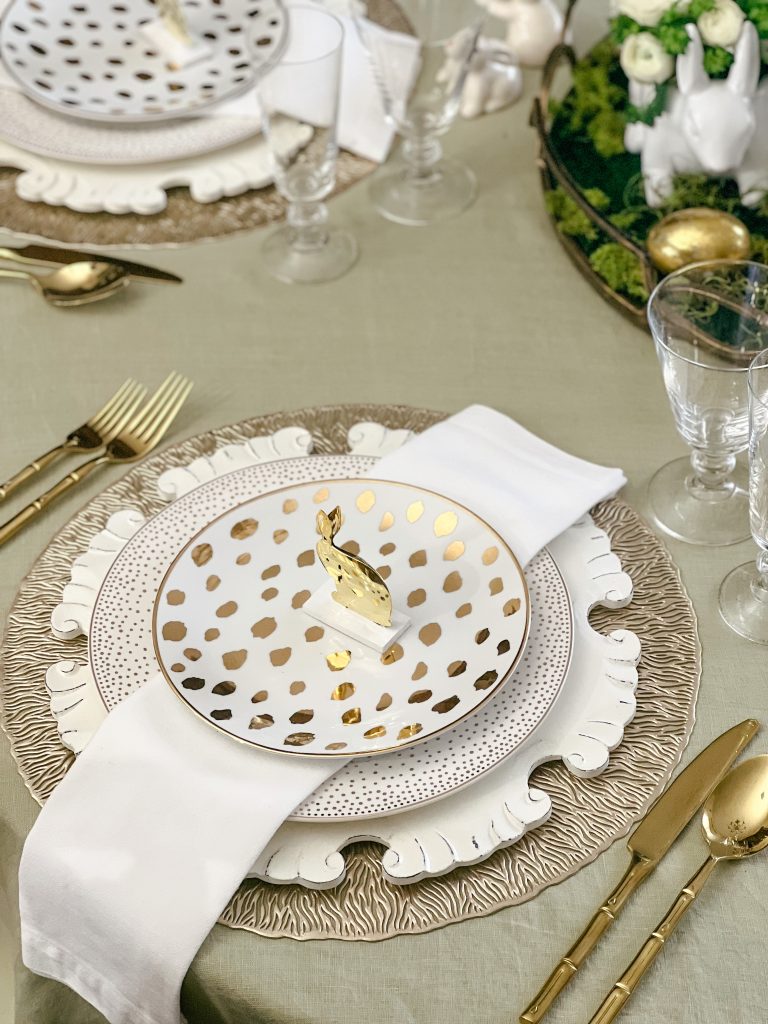 For the place setting, I started with a gold placemat from HomeGoods, layered a white wooden charger from Pier 1 Imports (discontinued), my Grace Teaware Metallic Gold Dots dinner plate, a plain white napkin and my Ballard Designs Cheetah plates. I love how the cheetah print mimics an abstract egg! Yes, you need to use your imagination to see it, but it works. I topped it off with a gold bunny from Target.
Note: The gold bunny came with a wooden base. I used some acrylic paint I had and painted the base white.
My gold bamboo Flatasay flatware is from Amazon and the French wine and champagne stemware is from Crate and Barrel. They are both stunning and I love their quality. I use them both often.
Since the bar cart is in the dining room, I added some white tulips, a gold bunny and a whimsical Easter frame to continue with the white and gold Easter theme. It's the perfect touch without being too much.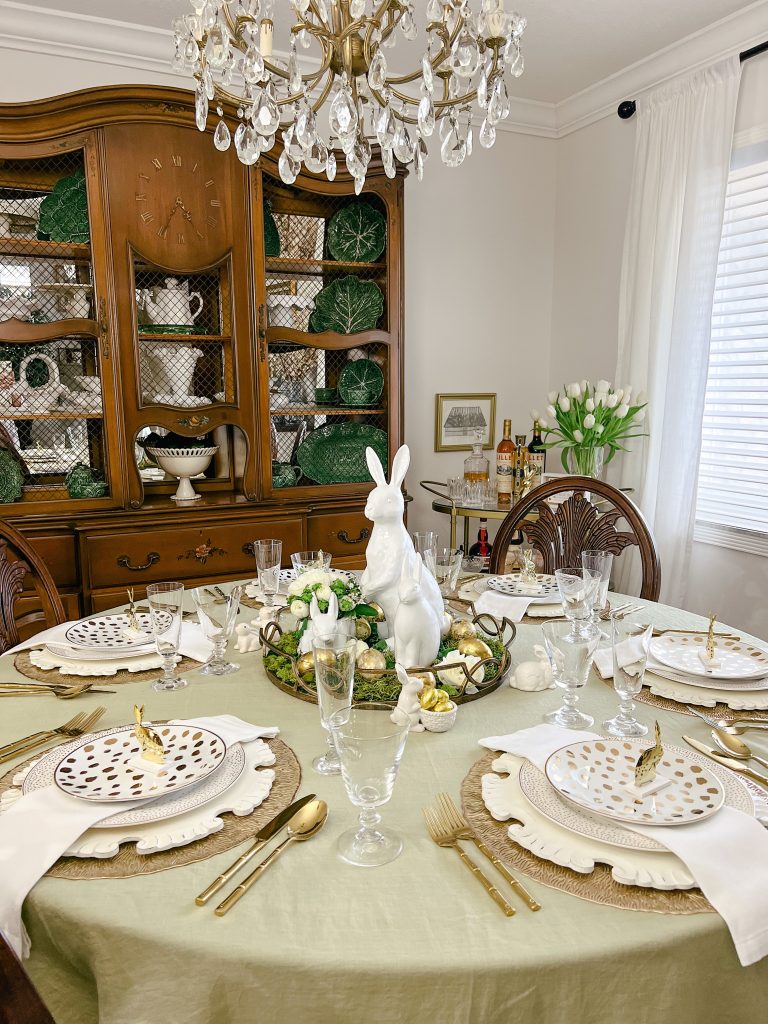 I absolutely love how this turned out! I hope this tablescape inspires you to create your own. Leave a comment below, I would love to hear from you. Happy Easter!
SOURCING
Tablecloth & Cheetah Salad Plates – Ballard Designs
Gold Placemat, Grace Teaware Metallic Gold Dot Dinner Plates & tall Bunny – HomeGoods
Elana Gold Mirrored Tray & White Scalloped Wooden Chargers – discontinued from Pier 1 Imports
White Napkin – Williams Sonoma
Gold Bamboo Flatware – Amazon
French Stemware – Crate & Barrel
Moss & Gold Eggs – Hobby Lobby
Smaller Bunnies – JoAnn's Fabric
Placesetting Gold Bunnies – Target
Mini Bunnies on the table – Thrift Finds